CAG.668 John Hogan, The Drunken Faun, 1826, plaster original, 98 x 155 x 70 cm. Presented, William Horatio Crawford, Esq.
For the final WORK OF THE WEEK of 2020, we're sharing an image of celebration!
The Drunken Faun (1826) by John Hogan depicts a mythological figure in the midst of a Bacchanal, an ancient festival to the wine god. Falling backwards in intoxication, the faun is surrounded by attributes including pan pipes, cymbals, and wine jug, while a goat skin covers his modesty and serves as a reminder of his species.
Intriguingly, this plaster Neoclassical sculpture was the product of a challenge set by Welsh sculptor John Gibson (1790-1866). Ever one to rise to the occasion, Hogan countered painter Vincenzo Camuccini's claim that all original poses in sculpture had been exhausted with this dynamic triangular composition. The faun's left arm supports the weight of his entire upper body, as his right leg is outstretched, and vine leaf-entwined head falls back.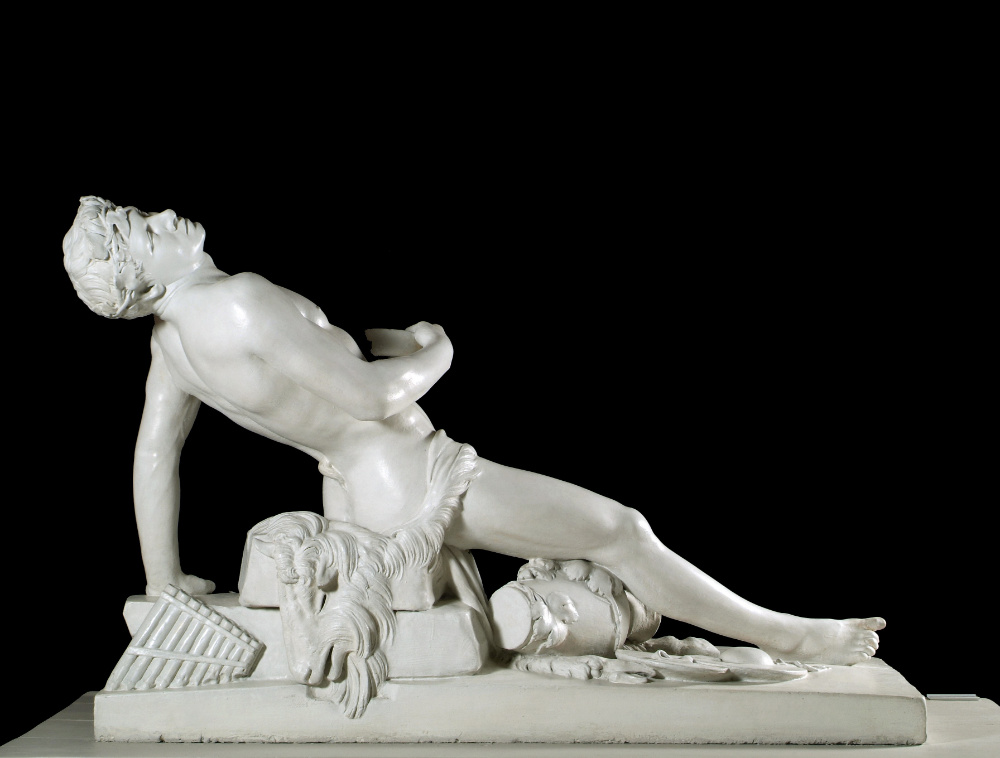 Although he may have been inspired by the ancient Barberini Faun or Johan Tobias Segrel's faun of 1771, Hogan succeeded in his task and firmly proved both Gibson and Camuccini wrong. The finished work even prompted Danish sculptor Bertel Thorvaldsen (1770-1844) to declare it 'a miracle of Art.'
The Drunken Faun was exhibited at the Royal Irish Institution in 1829, and subsequently in The Great Exhibition (1851) at the Crystal Palace in London's Hyde Park. It has been in the Crawford Art Gallery collection for over 130 years.
The Drunken Faun by John Hogan (1800-1858) is featured in RECASTING CANOVA in our Sculpture Galleries.
Tune into The Arts House with Elmarie Mawe on Cork's 96FM and C103FM every Sunday morning as Conor Tallon chats with assistant curator Michael Waldron about each WORK OF THE WEEK! Listen back to this week's chat here: