CAG.490 Jim Buckley, Porthole II, 1981, steel, 34 x 33 x 35.5 cm. Purchased, 1981. © the artist.
This WORK OF THE WEEK turns scrap into art!
Porthole II (1981) by Jim Buckley adopts basic formal shapes, as circular pieces of steel are placed at angles to one another, while other tubular forms support or pierce them.
The artist selected the pieces of scrap metal for their ex-industrial aesthetic and sense of mass. The title itself was suggested by its finished form as it recalls a ship's porthole. At the time, Buckley's work was evolving quickly as he moved away from the vertical (figurative) towards horizontality (landscape form). Porthole II was first exhibited in a joint exhibition with Buckley's teacher, John Burke (1946-2006), at the Cork Arts Society, Lavitt's Quay.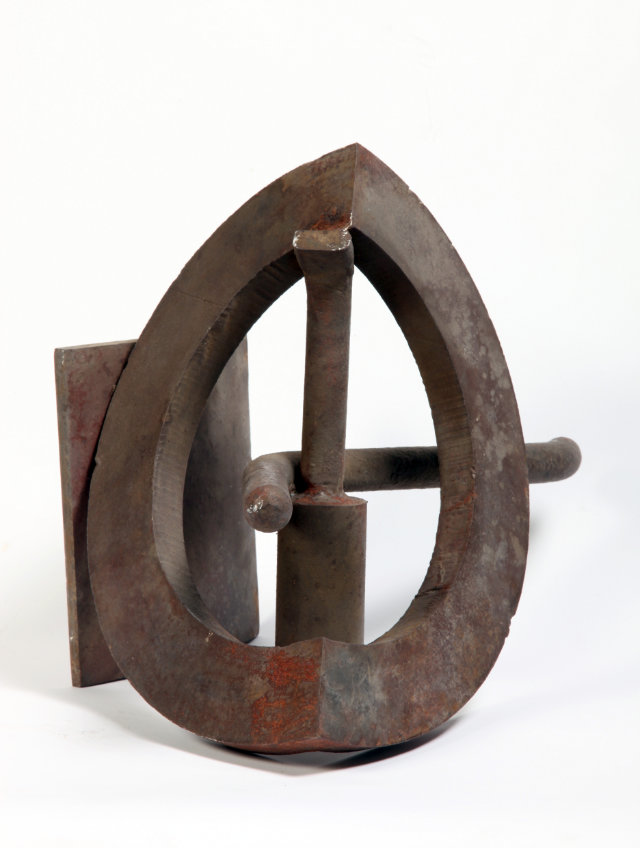 Jim Buckley (b.1957) studied photography and sculpture at the Crawford School of Art (now MTU CCAD), 1975-80, and was among the first students to relocate to the Sharman Crawford Street premises. In 1985, his large-scale sculpture Saurian was commissioned for the 'Cork 800' celebrations and is sited in Cork's Lee Fields.
In more recent years, Buckley has increasingly focused on light in all its forms, ranging from photography and projection to fibre optics. In 2000, hewas commissioned by National Sculpture Factory and Triskel Arts Centre to create Fall, a site-specific projection at R&H Hall, Kennedy Quay. The artist lives and works in Scotland.
Porthole II (1981) by Jim Buckley is featured in STATIO BENE: Art and Ireland's Maritime Haven, which runs in The Long Room (Floor 1) until April.
Tune into The Arts House with Elmarie Mawe on Cork's 96FM and C103FM every Sunday morning as Conor Tallon chats with assistant curator Michael Waldron about each WORK OF THE WEEK! Listen back to this week's chat here: