Unknown artist, View of Cork Harbour from Rostellan, Inisbeg Island, 1809.
Until 23 May 2021
Cork has for centuries benefited from the natural maritime haven that is its harbour. Amongst the largest of its kind in the world, it has long been a porous site for settlement and migration, commerce, defence, and leisure, and holds deep cultural and economic relevance.
Fittingly presented in the Long Room of the city's old Custom House, this exhibition is inspired by Cork's motto, Statio Bene Fida Carinis, which translates as 'a safe harbour for ships'.
Artworks have been selected from the collection that describe or address the maritime traditions of this significant port, an anchorage not only in naval and seafaring terms, but culturally and socially too.
Interspersed with captivating historic views of Cork Harbour, stories of fortification, people and prosperity, trade and smuggling, emigration and empire all emerge, from the seventeenth-century Dutch vessels of Willem Van de Velde (1611-1693) to Jamie Murphy's striking print series marking the centenary of RMS Titanic's maiden voyage.
Drawn from Crawford Art Gallery's own extensive collection, the exhibition includes works by Sarah Grace Carr (1794-1837), George Mounsey Wheatley Atkinson (1806-1884), Robert Lowe Stopford (1813-1898), Norah McGuinness (1901-1980), and David Lilburn, among others.
Curated by Dr Michael Waldron
Statio Bene Virtual Tour
Click on the image below to take a virtual tour of the exhibition.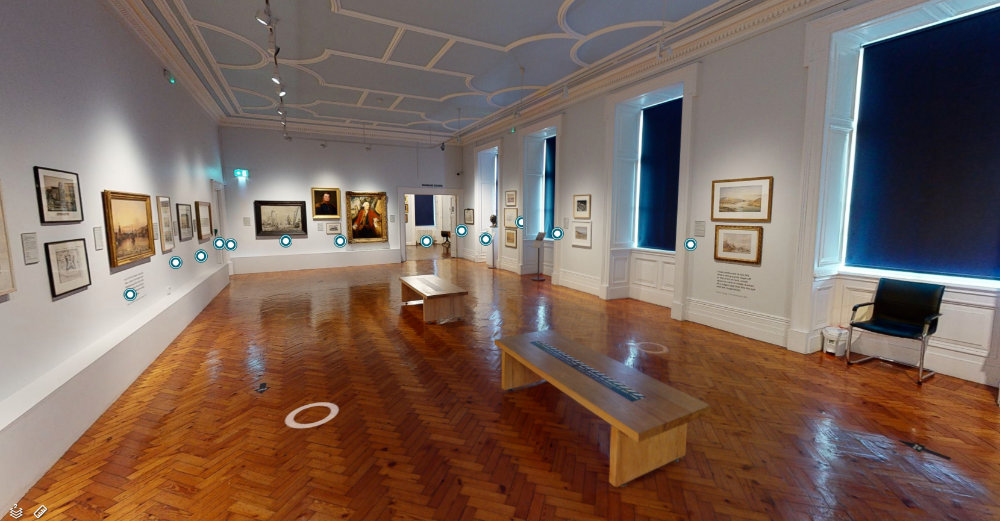 Exhibition and associated programmes made possible with the support of: