Talking Pictures for Children
Talking Pictures is an online resource for children and their adults based on artwork from the Crawford Art Gallery Collection. We will share creative prompts for happy talk and play every Wednesday.
About the artwork
This work is by an Irish artist called Colin Middleton who was born in Belfast in 1910. He was interested in surrealism, which means his art fused the psychological world of his mind and the real world he lived in.
In 1928 Middleton took a trip to London where he saw a Vincent van Gogh exhibition which hugely inspired him. Do you know van Gogh's work? He famously painted sunflowers and starry skies.
This painting by Colin Middleton is called Winter: Camden Street. The sky is textured and it looks like there is more than one moon. Underneath it is separated into grids with speckled yellows and reds looking like lights in a darkened city. Does this painting feel like winter? The blues certainly communicate a chilly air.
Got the blues?
Our lives are surrounded by colours and most of the time we don't even notice them. Let's see if you can find four blue objects in the room you're in now. Here are four that I found: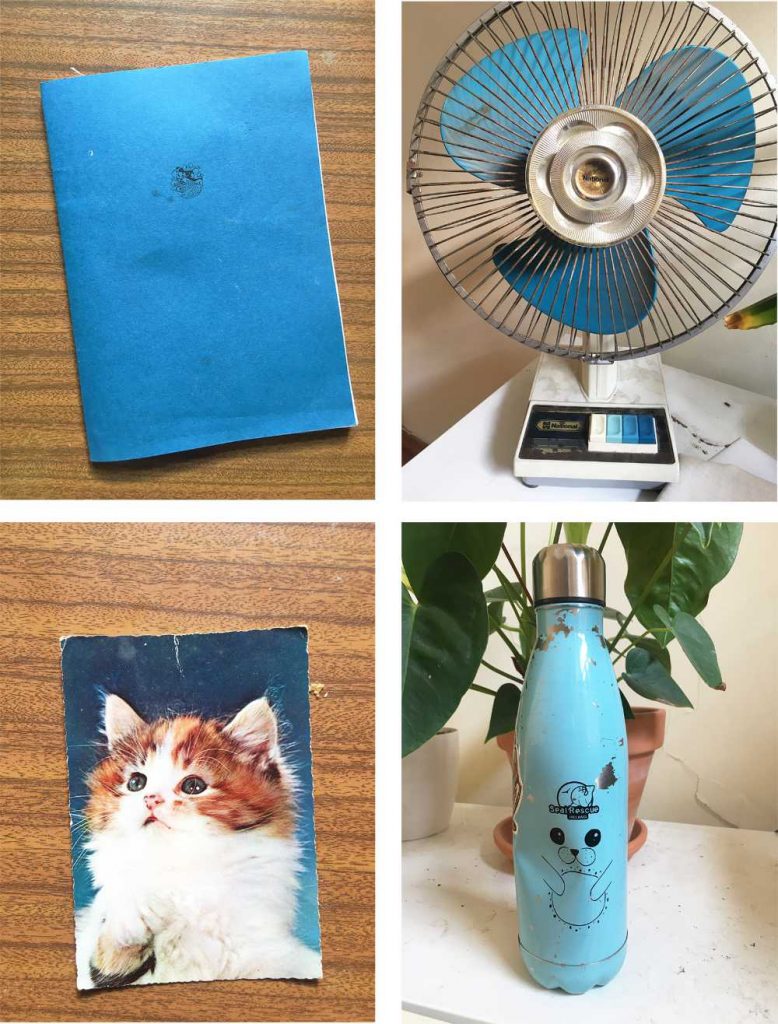 Shades of blue
Once you start looking you can see how many different hues of the same colour exist. There are many shades of every colour and often our mind merges them all into one.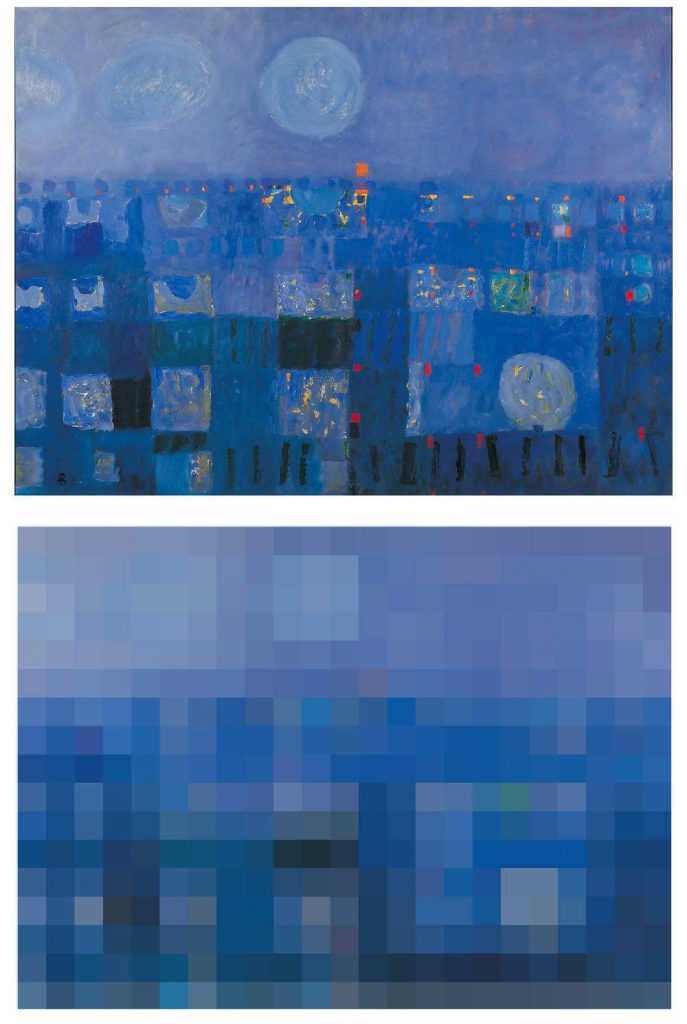 Here we can see all the different blues that make up Winter: Camden Street.

And here is a palette using just 14 of the blues from the painting. You can see that some have a greenish tint and some are a lot darker. Some are the colour of space and some are the colour of the sea. What would you associate these blues with?
Creating a bluescape
Now let's create a masterpiece of our own. The one rule? You guessed it! We'll be using only blues. You can use any media you like, and even better if you have a variety of different tools. Collage is also an option if you want to cut blues from magazines, newspapers or flyers.

We will start with a black page here. Middleton and Van Gogh looked at the sky and we will be going one step beyond with a blue space scene. Bring your martians, your venutians and your planet earths.

Then get stuck in! Remember to stick to blues. If you have paint this is very easy as you can create a wide range of hues just be adding a darker colour (black, green) or a lighter colour like white to your blue paint. You can also experiment with layering your pencils, pens or chalk to see the hues you can get.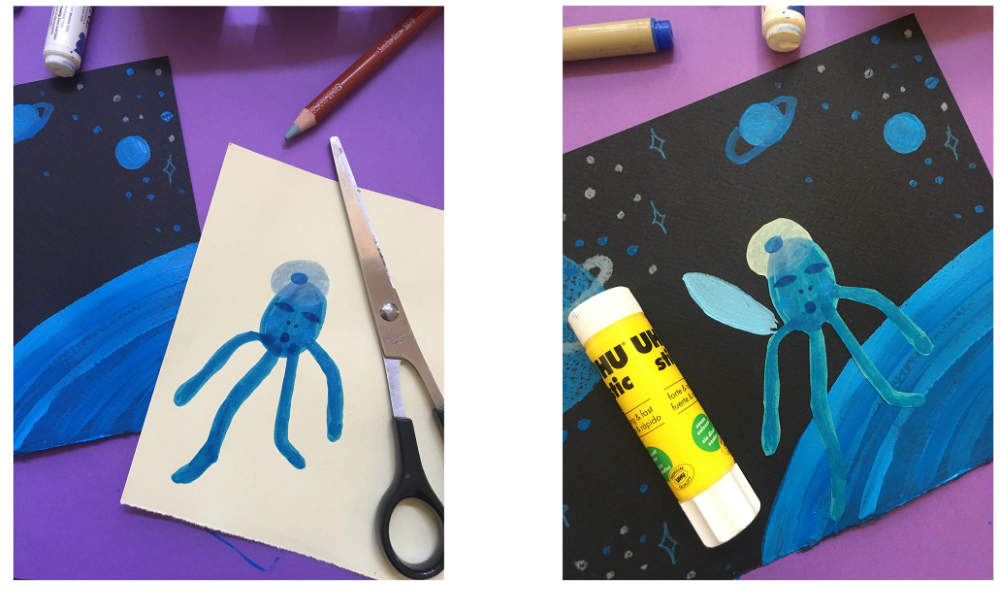 If the background is too dark for some of your pens, try drawing on a lighter page and cutting it out. Then you can stick down with pritt stick.
Once you are satisfied with your bluescape then take a step back and look at all the blues you have created in your picture.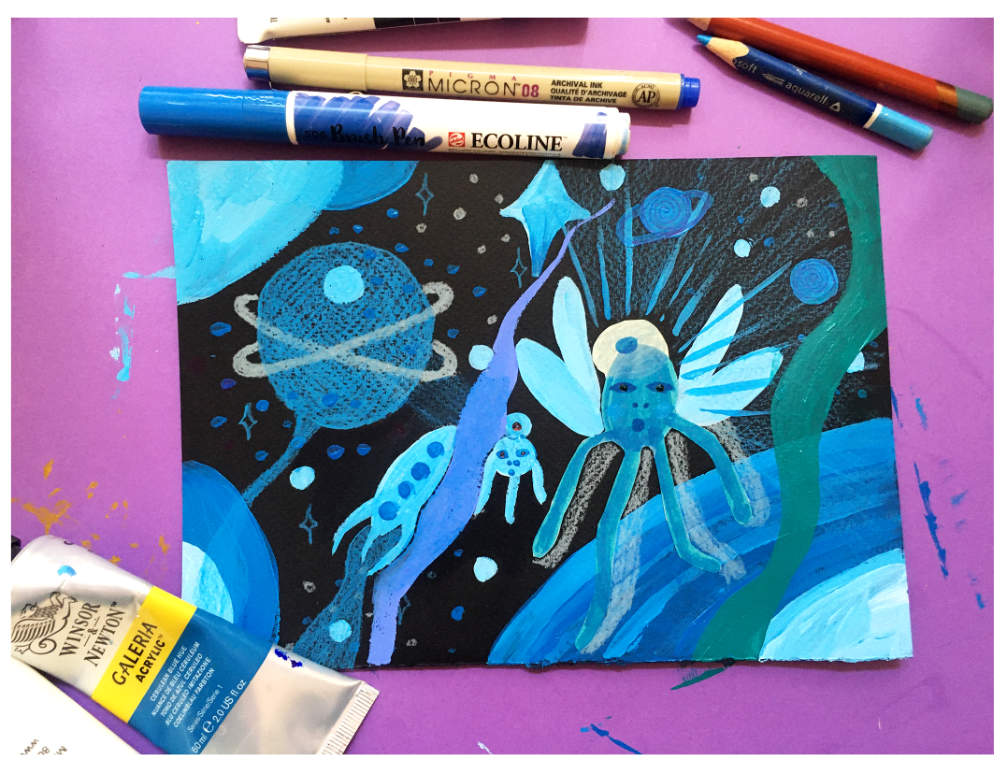 Share them with us on Facebook, Instagram and Twitter using the #crawfordartgalleryhomelife.
You can download an Irish language pdf version of this article here.
Talking Pictures: Winter was devised by Annie Forrester
Please share: