Talking Pictures for Children
Talking Pictures is an online resource for children and their adults based on artwork from the Crawford Art Gallery Collection. We will share creative prompts for happy talk and play every Wednesday.
Stunts
This work is by an artist called Gerard Dillon. It's called Stunts and it shows two people doing acrobatics with a little white dog. There is a big red shape in the centre of the work - what do you think this is? Could it be a fingerprint? Could it be a heart?
What is the mood of this artwork? Do you think the artist was feeling happy when he made it? It looks like these two are friends, perhaps showing off their moves to each other.
Pierrot
The two figures are based on the character of Pierrot the sad clown. Pierrot is a major character in pantomime theatre. He expresses meaning and his emotions through facial gestures and movements of his body, like mime. His face is painted completely in white and he often wears a white outfit.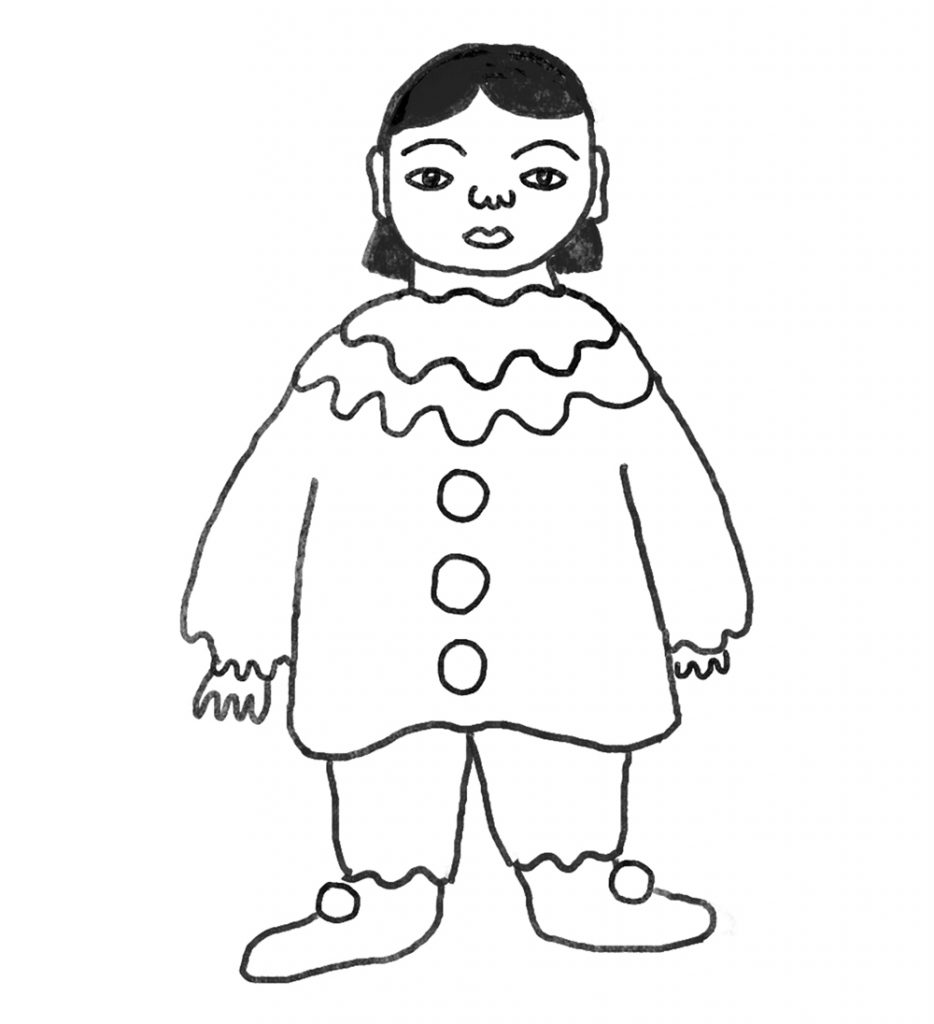 Charades
Mime has been a popular type of theatre for hundreds of years. It involves acting out a feeling or meaning without using words. Have you played the game Charades? If so, then you have a good idea of what mime is. Let's have a game so everyone can let out their inner Pierrot.
If you haven't played Charades before, it is easy to pick up. You will need another person to play with, but if you are on your own you can still practice your performance (try looking in a mirror while you do it).
Use your body, hands and face to act out the following words. The most important rule is you cannot make a sound while you are miming. The other person then has to guess what the word is. If you want to make it competitive then separate out into teams.
Tip: act out the action of the word. If you want to mime an orange, try peeling an imaginary orange.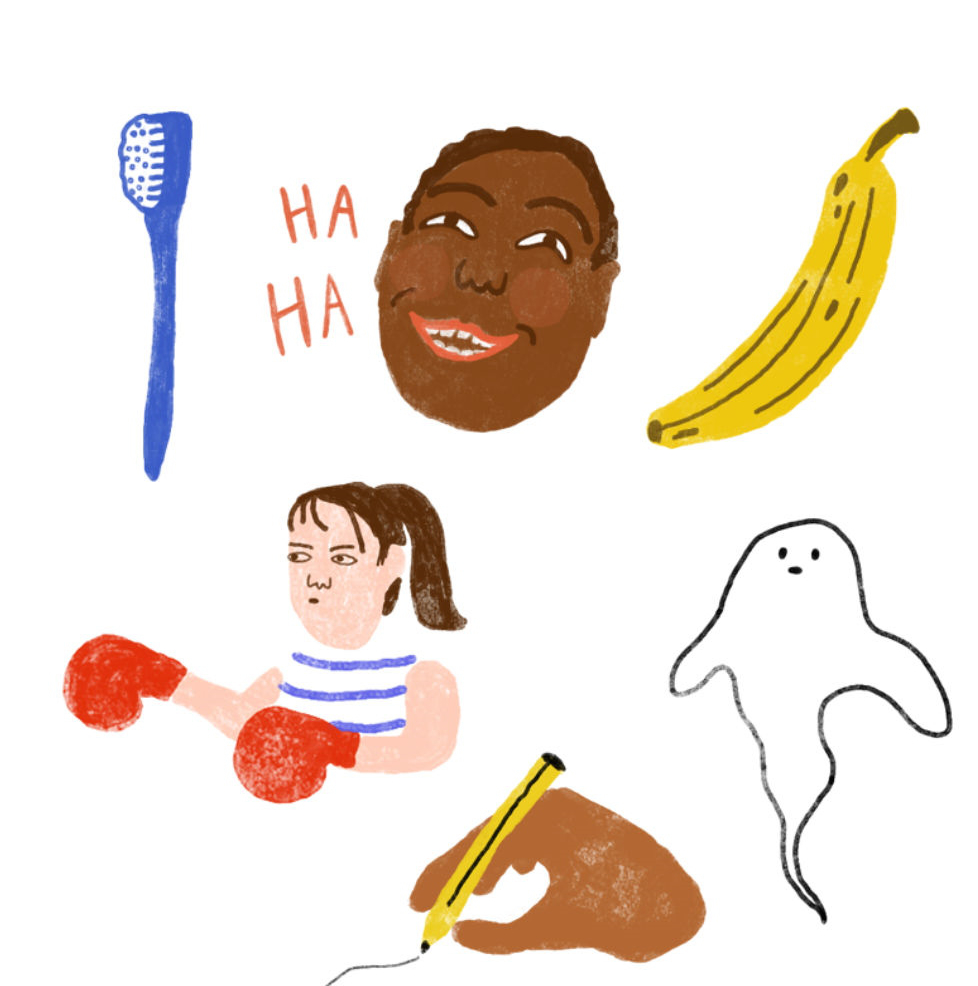 Acrobatics
Look closely at the people in Gerard Dillon's painting. They are doing acrobatics. Can you do these moves? The figure on the right is doing the Crab. Not everyone can do the Crab and as our bodies grow older we find these moves harder and harder.
Acrobats are very flexible and can make all sorts of shapes with their bodies. They can throw each other in the air and spin and twist as they fly. Many acrobats use a trapeze, which is a bit like a swing suspended very high above the ground.
Today we will be making little paper acrobats.
You will need paper, markers/pencils/pens, scissors, a piece of string, a straw and some blue tack or masking tape.
Step 1.
Draw a body shape like this on a piece of paper: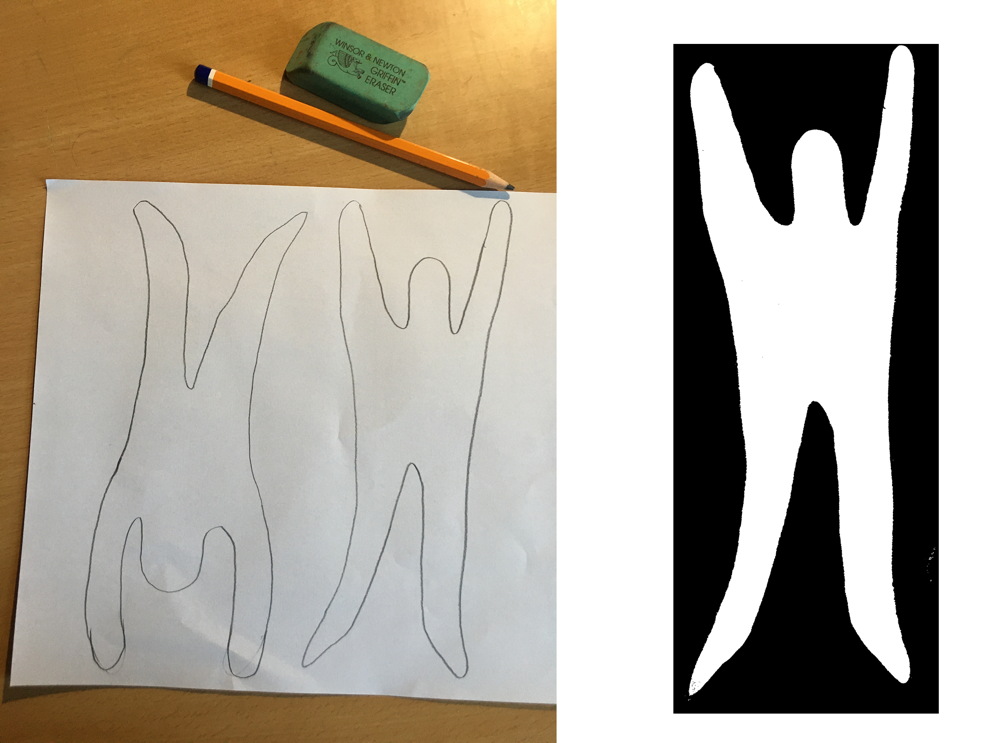 Step 2.
Colour in your figure. Acrobats like to put on a show so maybe they need a jazzy leotard or glittery leggings?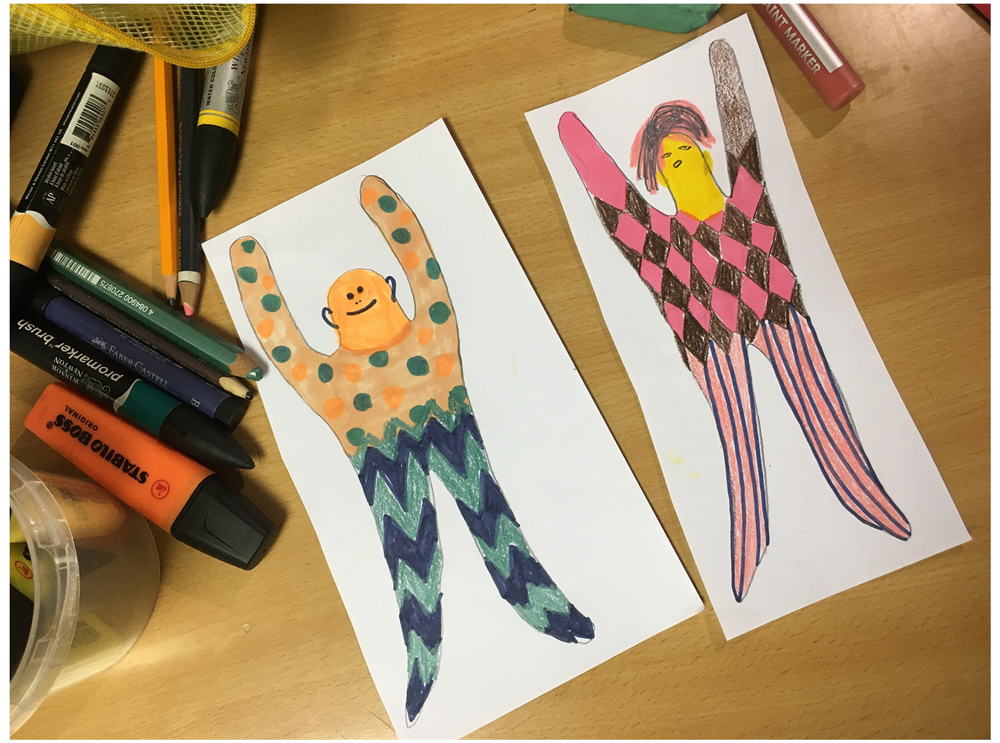 Step 3.
Cut out your figure as close as you can to their body. If you need help ask your closest adult or older sibling!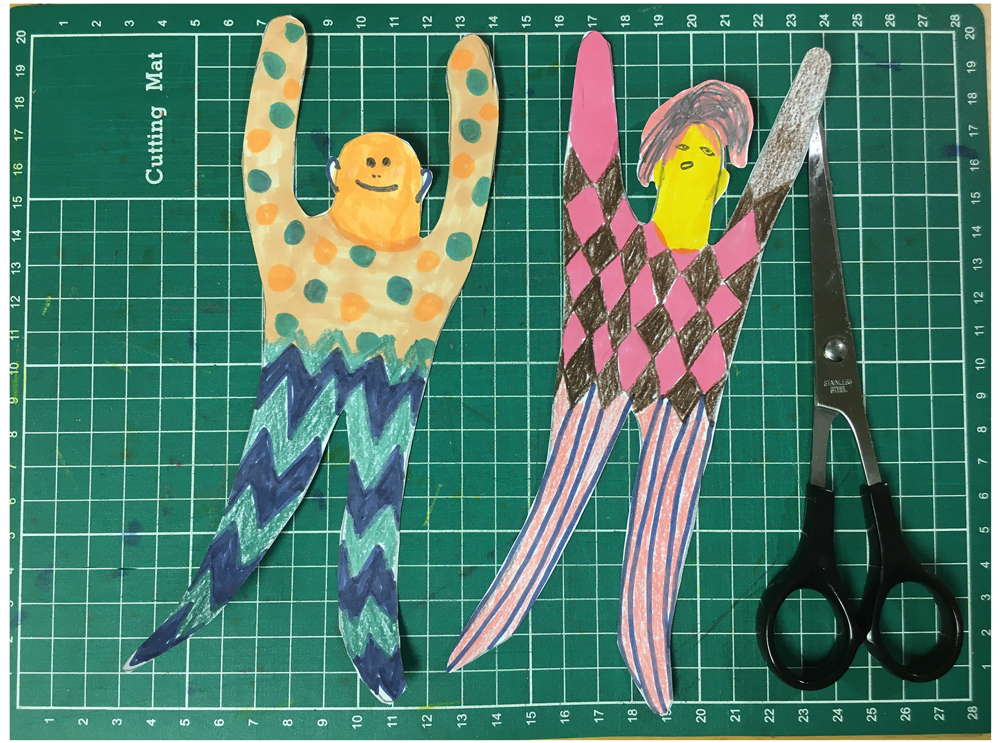 Step 4.
Thread your string through the straw.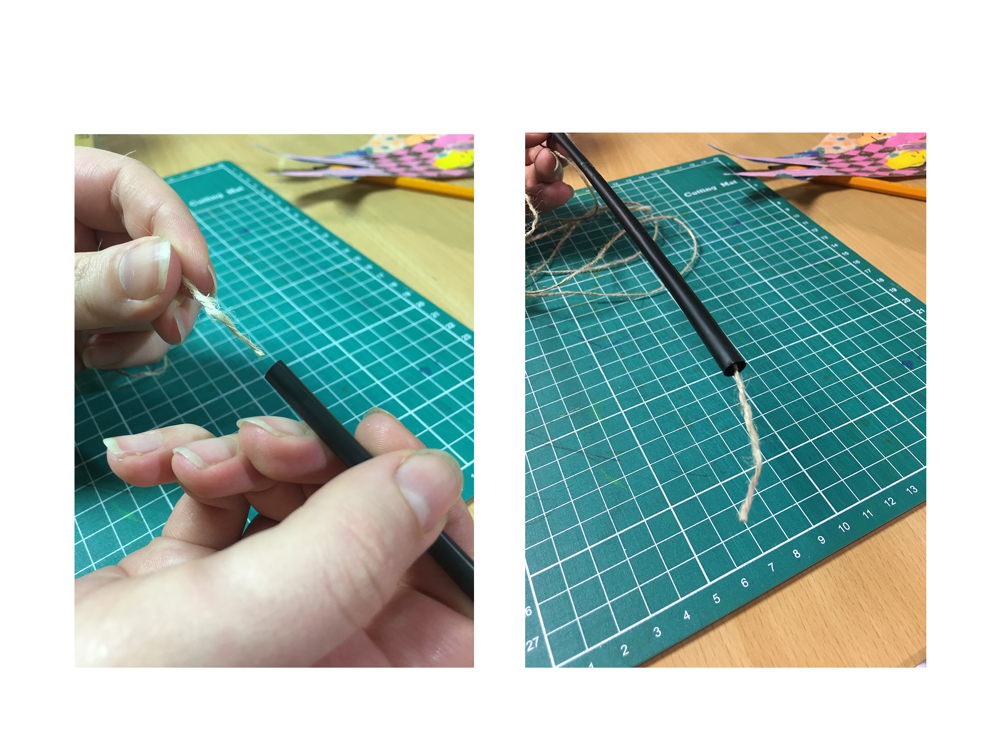 Step 5.
Now you have a trapeze! You can tie this to a door handle, hang it from your wall or stick it to a window.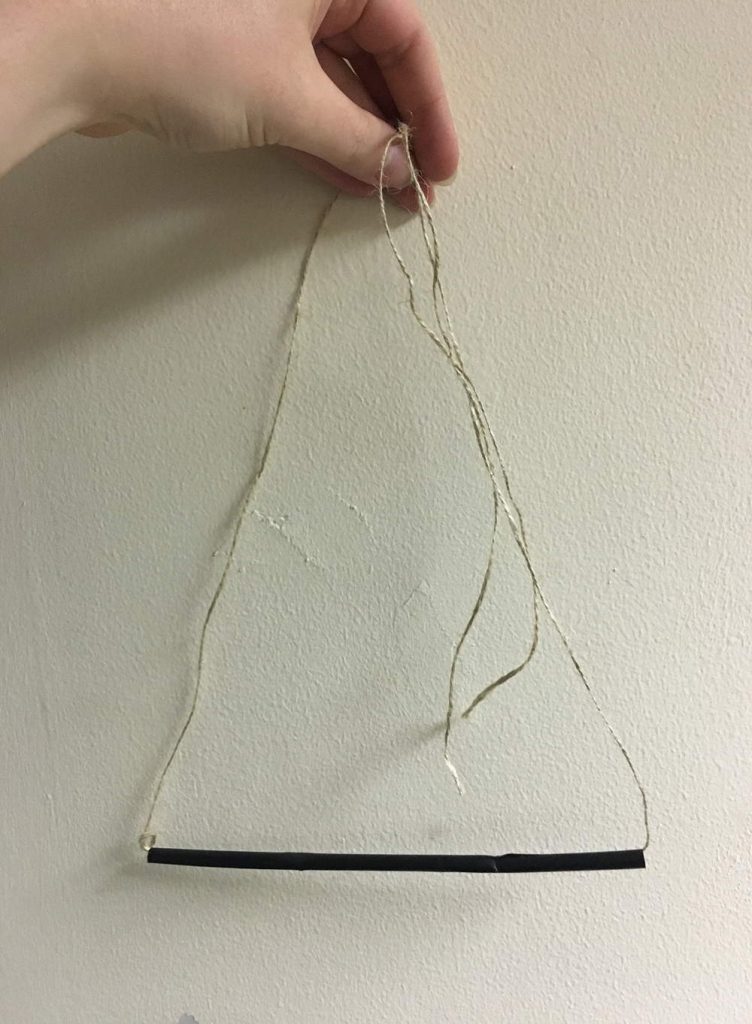 Step 6.
Now comes the splendour! Use the blue tack to stick your acrobat (or acrobats) to the trapeze. I would highly recommend searching trapeze artists videos for some dazzling inspiration.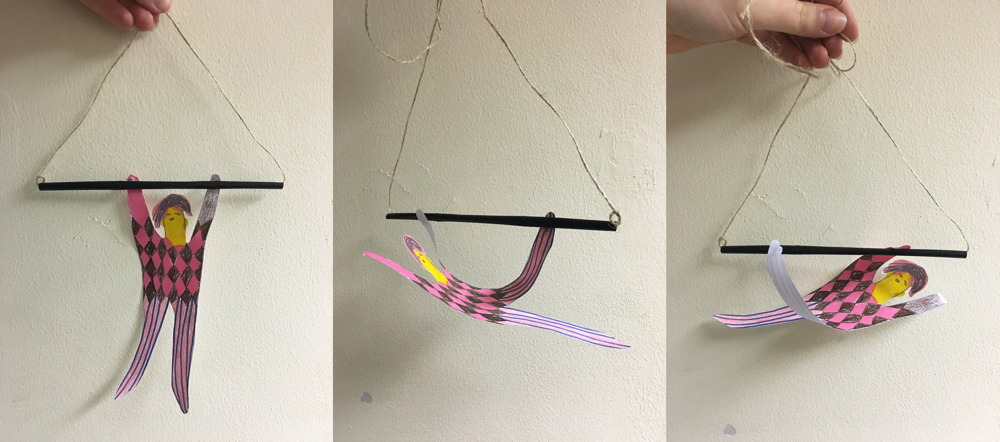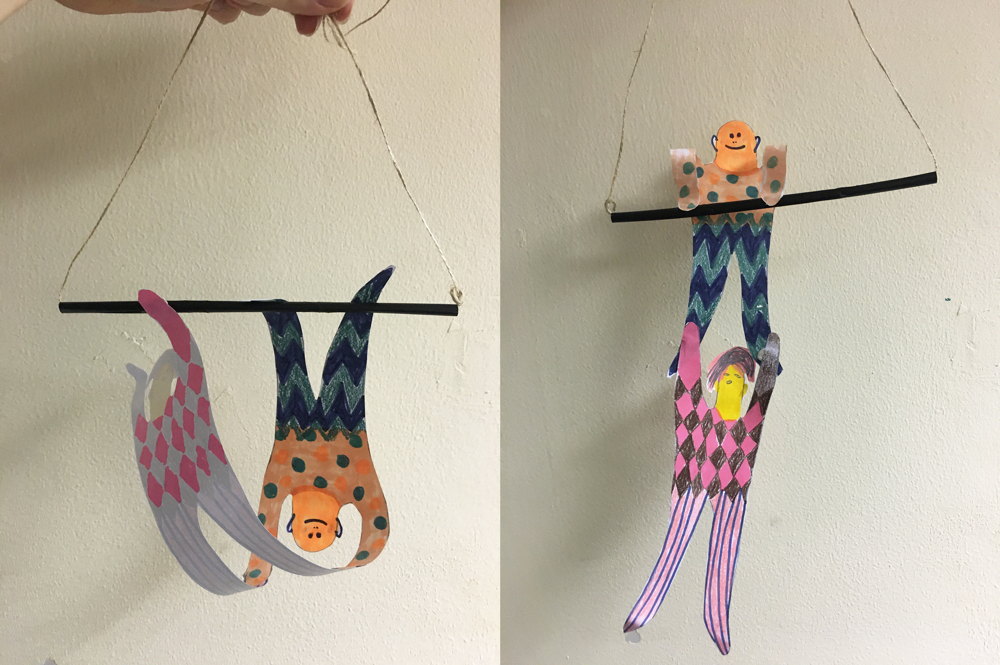 Happy clowning!
Share them with us on Facebook, Instagram and Twitter using the #crawfordartgalleryhomelife.
Talking Pictures: Trapeze was devised by Annie Forrester
Please share: