Talking Pictures for Children
Talking Pictures is an online resource for children and their adults based on artwork from the Crawford Art Gallery Collection. We will share creative prompts for happy talk and play every Wednesday.
The Beast
This creature is a sculpture by John Behan. It is made out of bronze. There seem to be a lot of different objects in this beast. What objects can you see? Do you think this beast is scary or friendly?
This beast is a bit like Frankenstein's monster, who was made from old body parts and strange chemicals. There is a song about monsters that could be about this beast. Do you know the Monster Mash song? You can find it on YouTube.
It begins like this:
I was working in the lab, late one night
When my eyes beheld an eerie sight
For my monster from his slab, began to rise
And suddenly to my surprise
He did the mash, he did the monster mash
The monster mash, it was a graveyard smash
He did the mash, it caught on in a flash
He did the mash, he did the monster mash
What do you think doing the 'monster mash' looks like? Do your own version of the 'monster mash' around your room.
How do you think John Behan's beast moves? What kind of sounds come from the beast as it is moving? Is it creaking and groaning? Or is it silent?
Making monsters
Let's make some monsters of our own. Here are some fun exercises to bring your own beasts to life. All you will need is something to draw with and a piece of paper.First we'll start with a scribble monster.
Begin with a scribble…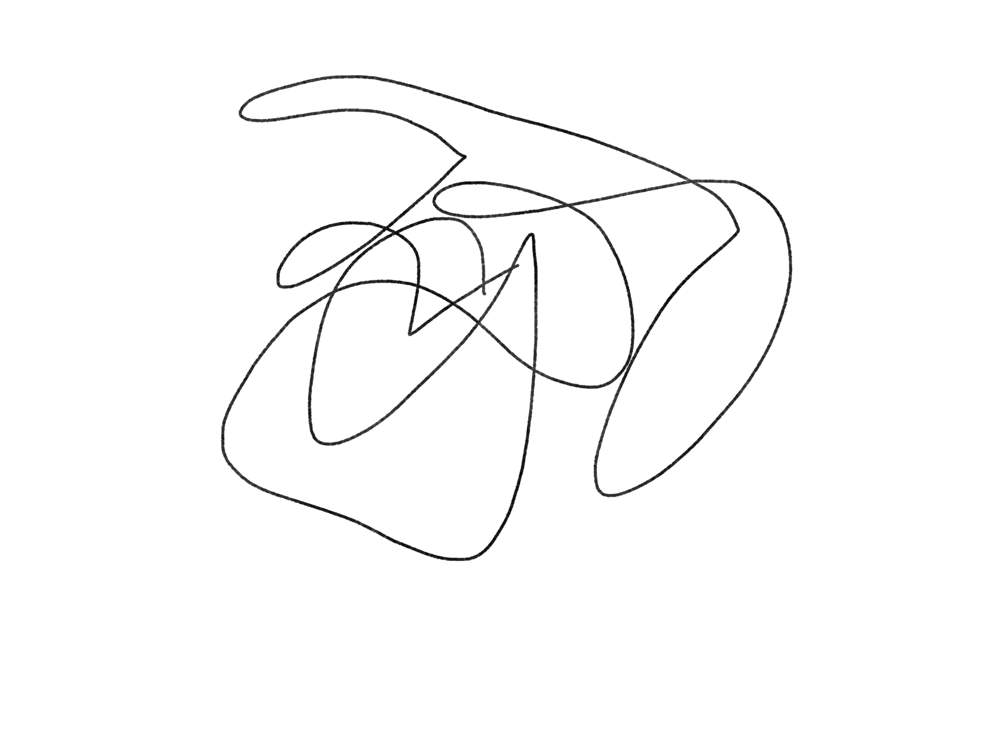 Now embellish your monster with beastly features. Think of some of your favourite monsters for terrifying traits...
Do they have fangs?
Fur?
Tiny eyes?
Hundreds of eyes?
Empty eyes?
Horns?
Lots of legs?
Stumpy tails?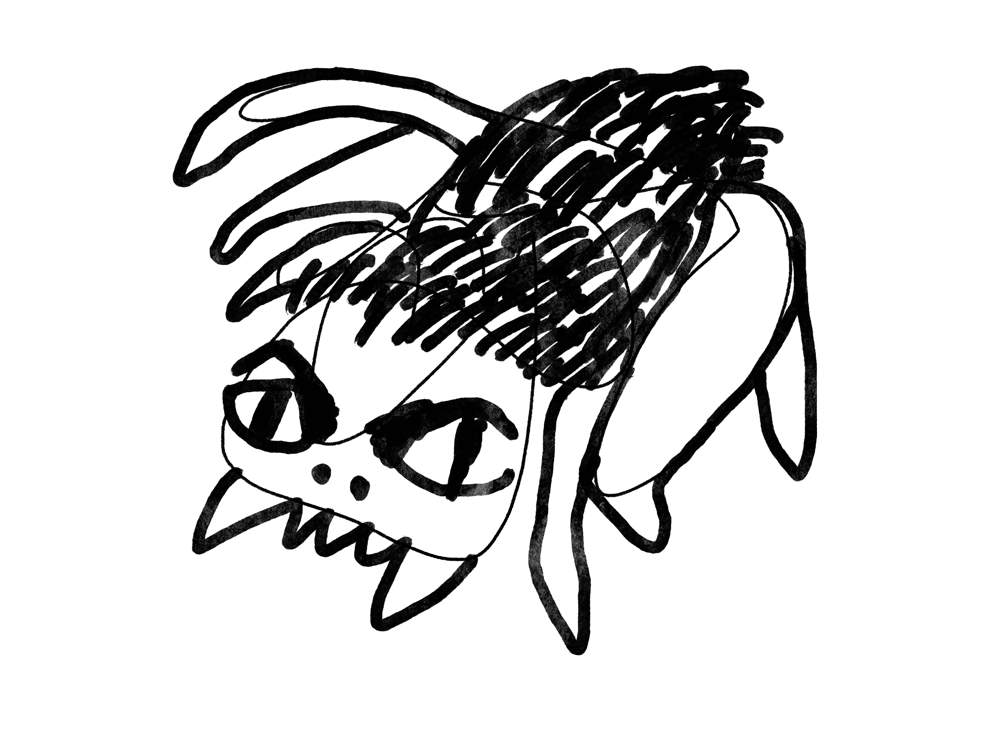 This scribble monster is called Tessa. She loves wet, damp places so you will find her in the drains. Tessa is quite a gourmet; she feeds on blanched asparagus and salmon flakes. She stores the oil from the salmon flakes in her glands and shoots it out when under attack. This makes her almost impossible to catch.
Now you've given life to your first scribble monster! Take a look at your creature and get to know them...
What's their name?
Where do they live?
What do they eat?
Do they have any special powers?
Exquisite corpses
Another fun way to make a beast is to play the game exquisite corpse. This is similar to the word game consequences. For this you will need at least one other person. If there is a group of you, each person should start with their own piece of paper and pass to their left when done.
To begin, fold your A4 page into three sections: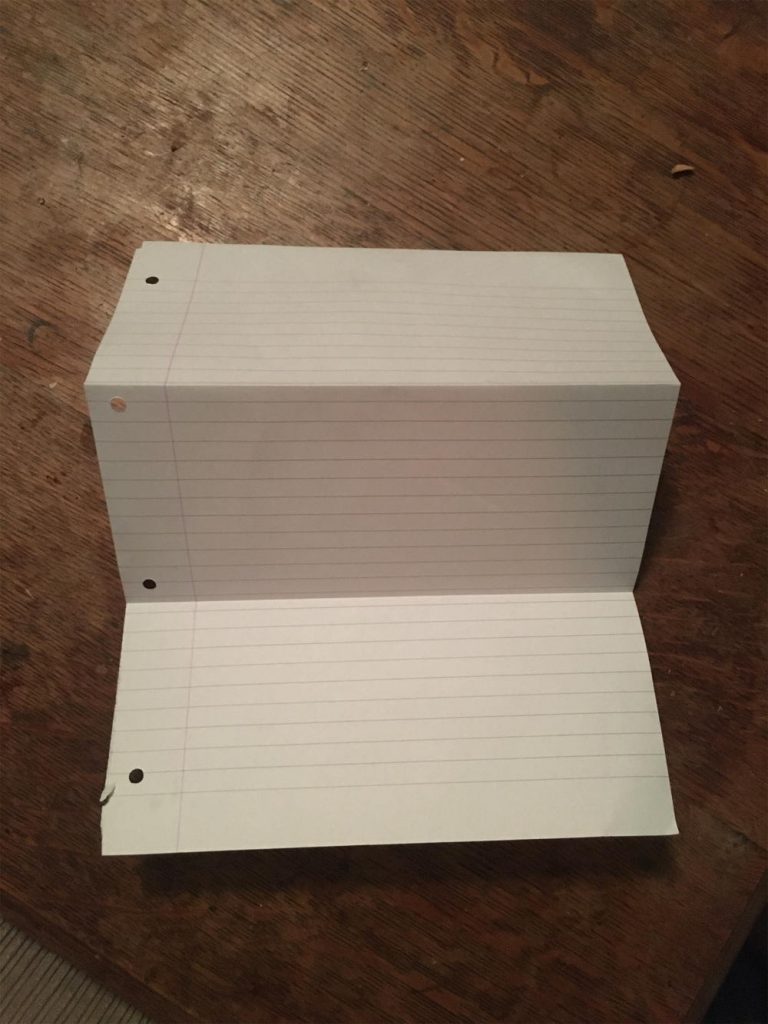 The first person draws a head in the top section. It can be any kind of head. Once you have finished you need to make sure there are two lines coming down over the fold, so the next person knows where to start the body. Fold the page so that you cannot see the head, only the two lines coming down from the fold. Pass to the person on your left.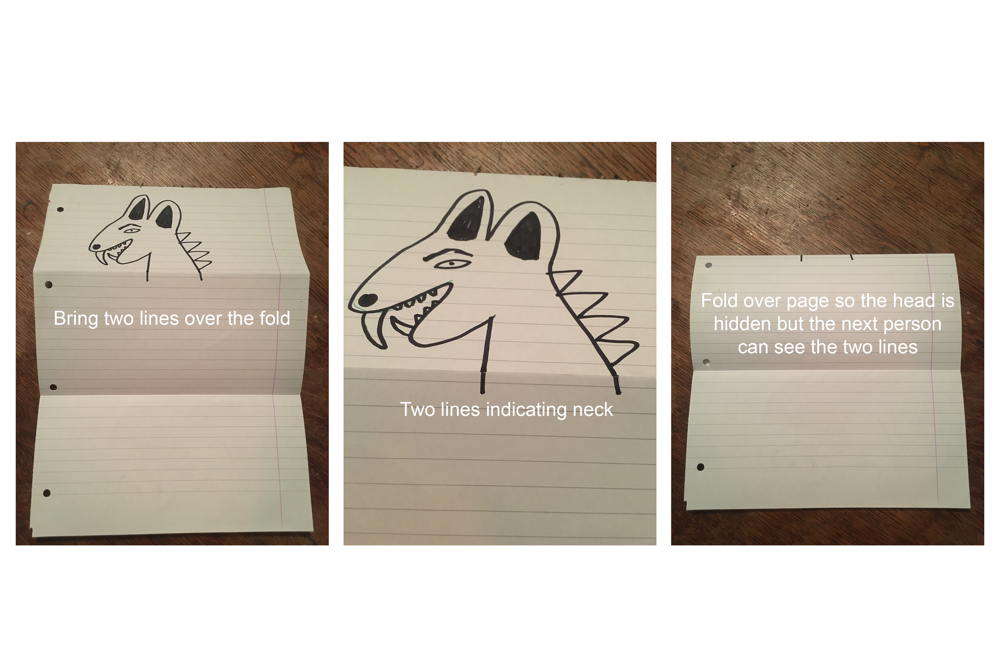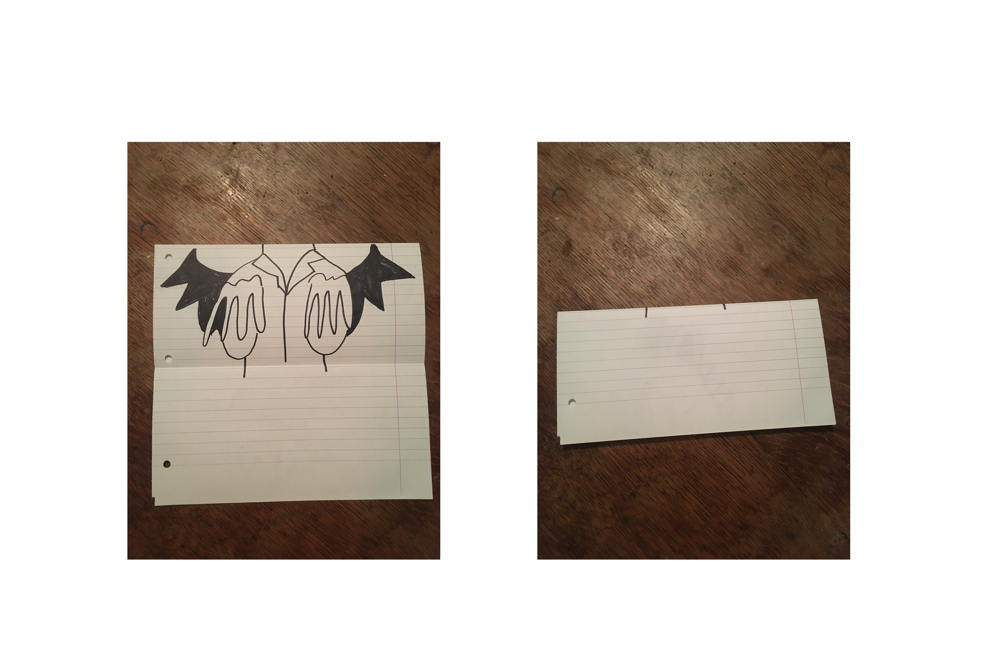 The next person draws the monster's body. Using the two guidelines, add a torso and any additional features you wish. Arms? Hooves? Wings? Draw lines over the fold to indicate where the next person needs to add the final body part(s) and fold over, so the rest of the creature is hidden.
Now it's time to add the feet, or tail, or legs or claws.
Once the last person is finished with the creature, they can unravel the sheet to reveal your collaborative beast.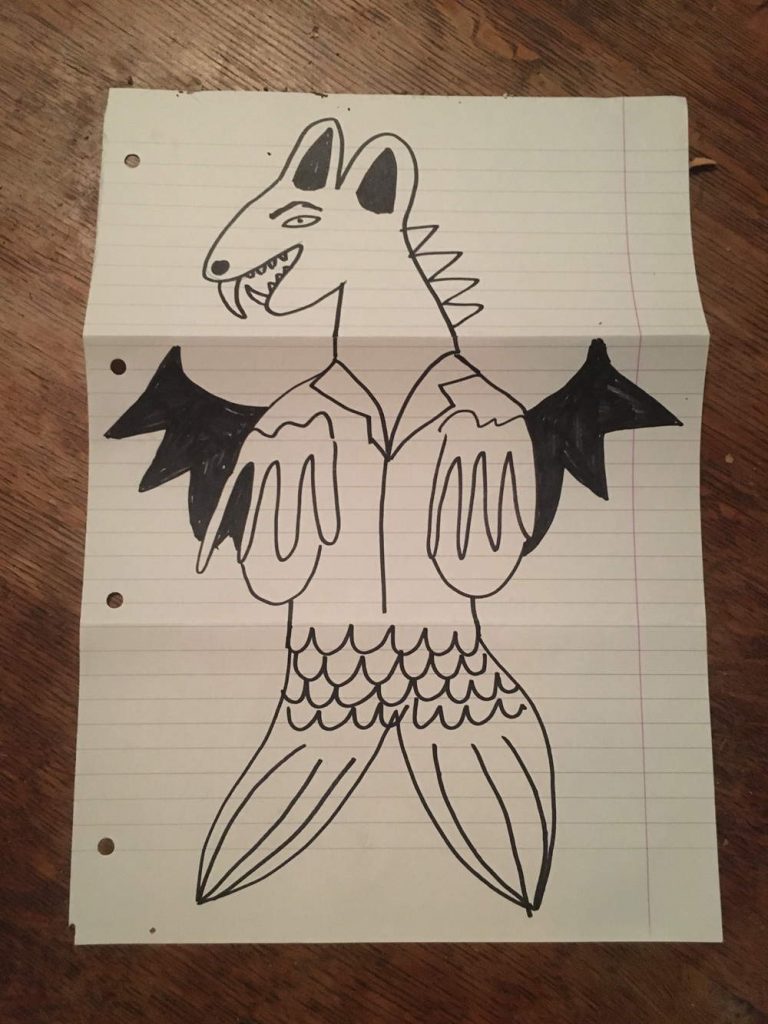 Now you can colour in and add flourishes to your beast. Let's revisit the questions we had earlier for our scribble monsters:
What's their name?
Where do they live?
What do they eat?
Do they have any special powers?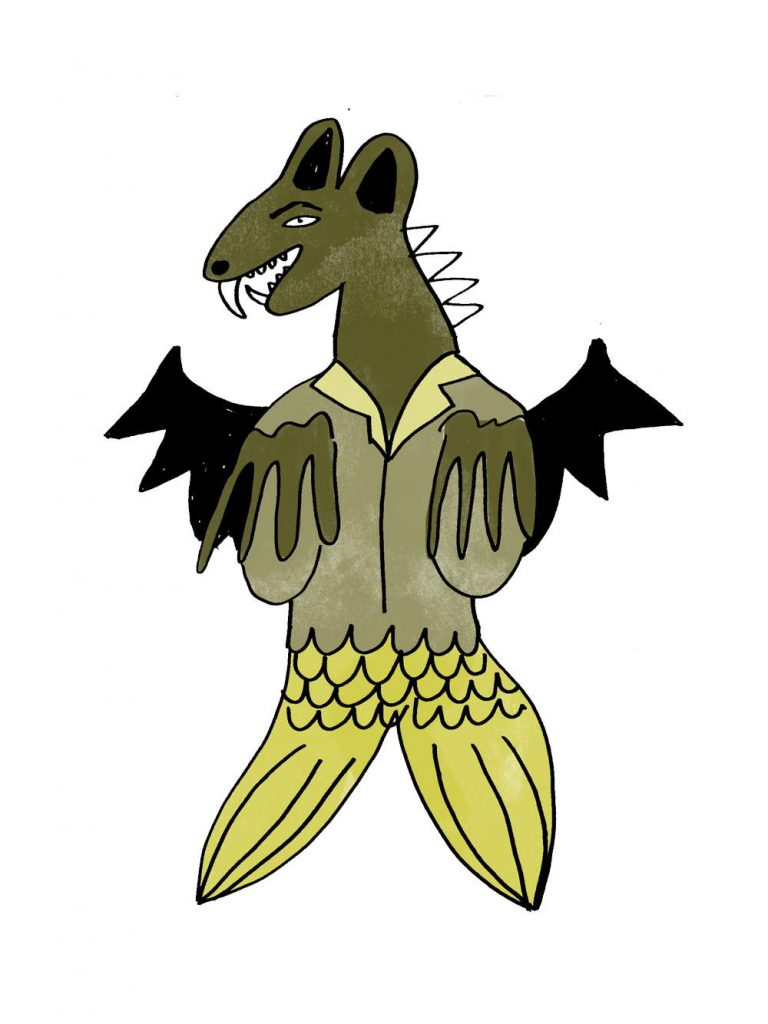 This creature is called Martholemew. Martholemew can live in most environments due to his scaly skin, fish tail and bat wings but he prefers warmer climates. His favourite foods are marshmallows and Mikado biscuits. Martholemew doesn't have any special powers but being extremely adaptable to different terrains has huge advantages. 

Go forth and create some beastly companions! Please share your own exquisite monsters using our hashtag so we can see what Tessa and Martholemew are contending with.

We would love to hear your stories and artworks inspired by Talking Pictures! 

Share them with us on Facebook, Instagram and Twitter using the #crawfordartgalleryhomelife.
Talking Pictures: The Beast was devised by Annie Forrester
Please share: