Talking Pictures for Children
Talking Pictures is an online resource for children and their adults based on artwork from the Crawford Art Gallery Collection. We will share creative prompts for happy talk and play every Wednesday.
About the artwork
Eduardo Paolozzi was a Scottish sculptor and artist born in 1924. His parents had moved to Scotland from Italy and owned an ice-cream shop. Eduardo loved the bright colourful packaging for the ice-cream and this influenced his art. Other influences were the work of Pablo Picasso, American pop culture and how people use machines. Eduardo called lots of his artworks 'Unikat', which means 'one-of-a-kind' or 'unique'.
Abstract Art
Abstract Art is modern art that does not have images from our world. It has lines and shapes and colours but they are not supposed to represent an object or a living thing. This allows us to look at the artwork and think about what it means to us. Maybe it will make us feel a certain way or it will remind us of something else. We can use our imagination to transform the artwork into something from our world or an imaginary world.
Let's look at shapes!
Look closely at the artwork and see…
Can you find a square?
Can you find a circle?
Can you find a triangle?
Can you find a rectangle?
Can you find a hexagon?
Can you find a squiggly line?
What is your favourite shape?
What is your favourite colour?
Can you find your favourite shape and your favourite colour in this artwork?
Let's Imagine!
What do you think this thing in the artwork could be? Could it be a city from above? Or a spaceship? Or lots of musical instruments? What do you see?
What are all those little squares for?
Could it be a playground for a mouse? How would the mouse play here? Pick one colour at a time and imagine how the mouse would jump on just that colour to get around the space…
Maybe you would like to write a story about what you can imagine and the creatures who might live here!
Shape Detective
There are lots of shapes in this artwork but really shapes are everywhere! Let's see how many shapes are around that we haven't noticed before. You can be a shape detective…all you need is a shape-finder.
Take some cardboard (a cereal box is fine) and mark out a shape-finder for each shape as shown below. Cut out the shape-finder using a scissors and the help of an adult. You can punch holes with a pencil to help you cut out the inside of the shapes.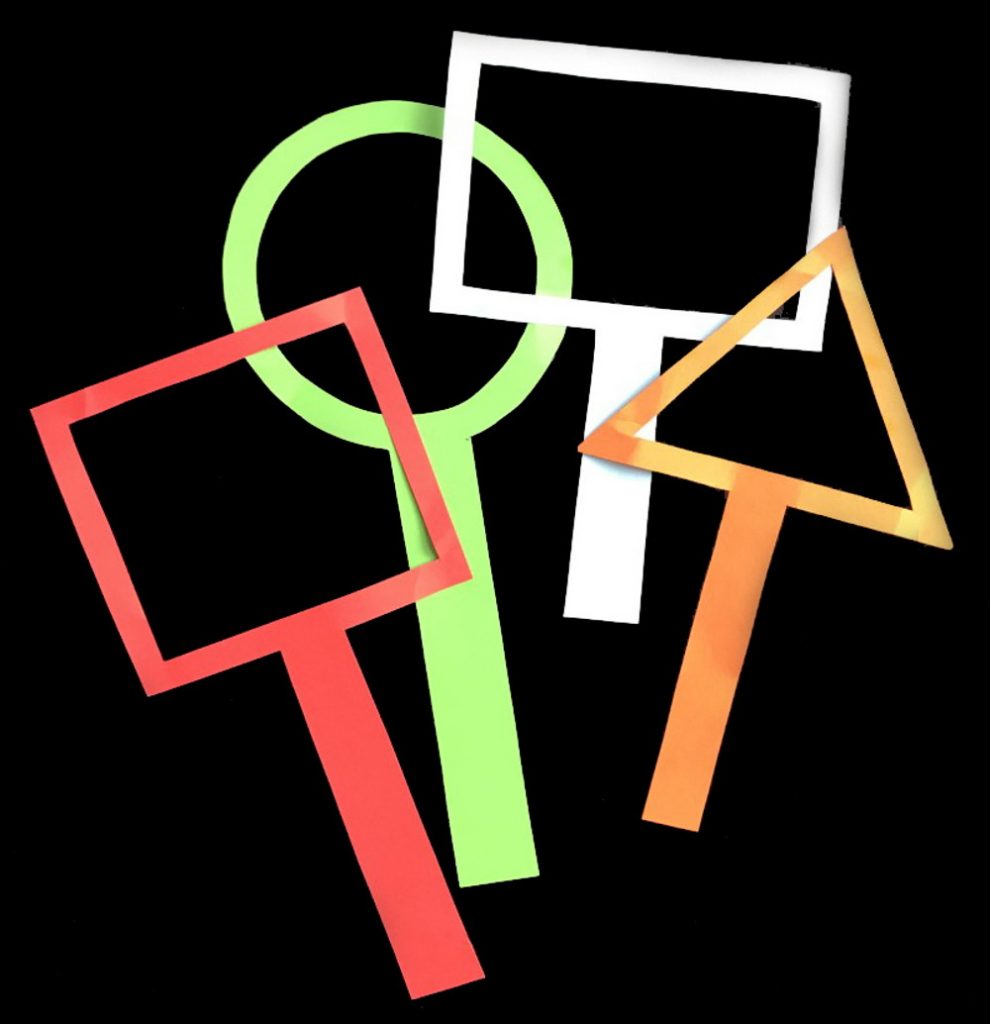 Now you are ready to take a wander around your house and see what shapes you can find! Some shapes will be bigger and others smaller, so you can zoom in or out with your shape-finder. Maybe you could take photos like the ones below to document all the shapes you find.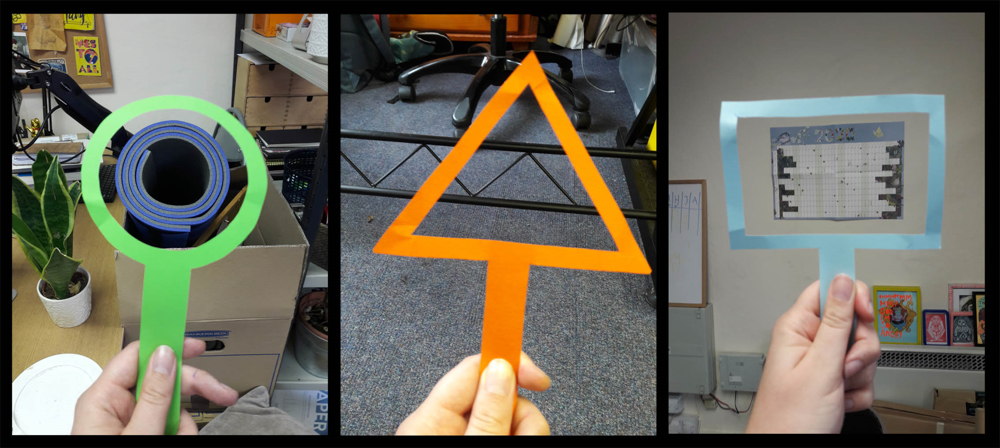 Which shape is the easiest to find?
Which shape is harder to find?
Does one room have more shapes than another room?
Take a line for a walk
You can create your own abstract art by taking a line for a walk. Start with a blank page and draw a continuous line all around the page, crossing the line back over itself and making all kinds of swirly-whirly shapes. Join the line back to the starting point when you are finished. Next, you can colour in all the sections you've created with colours or shapes or patterns. Now you have a one-of-a-kind abstract artwork. Have fun!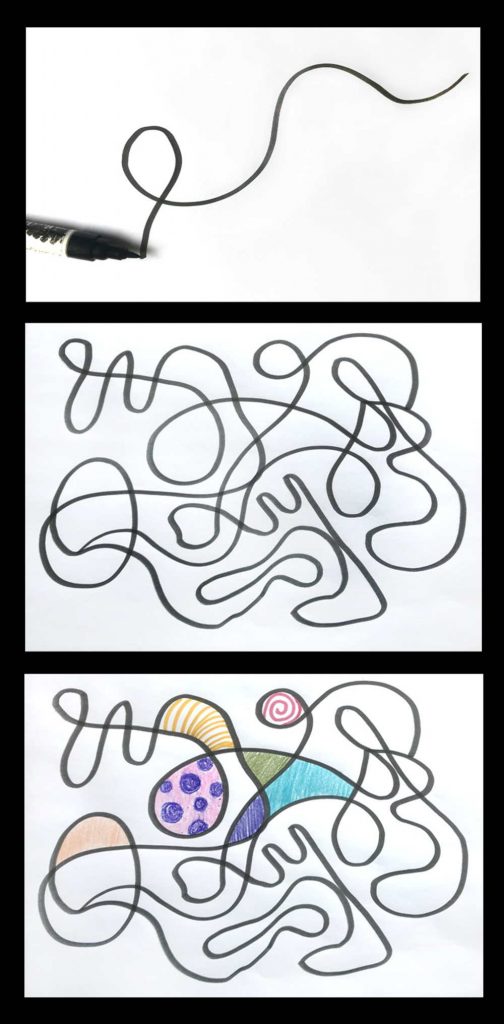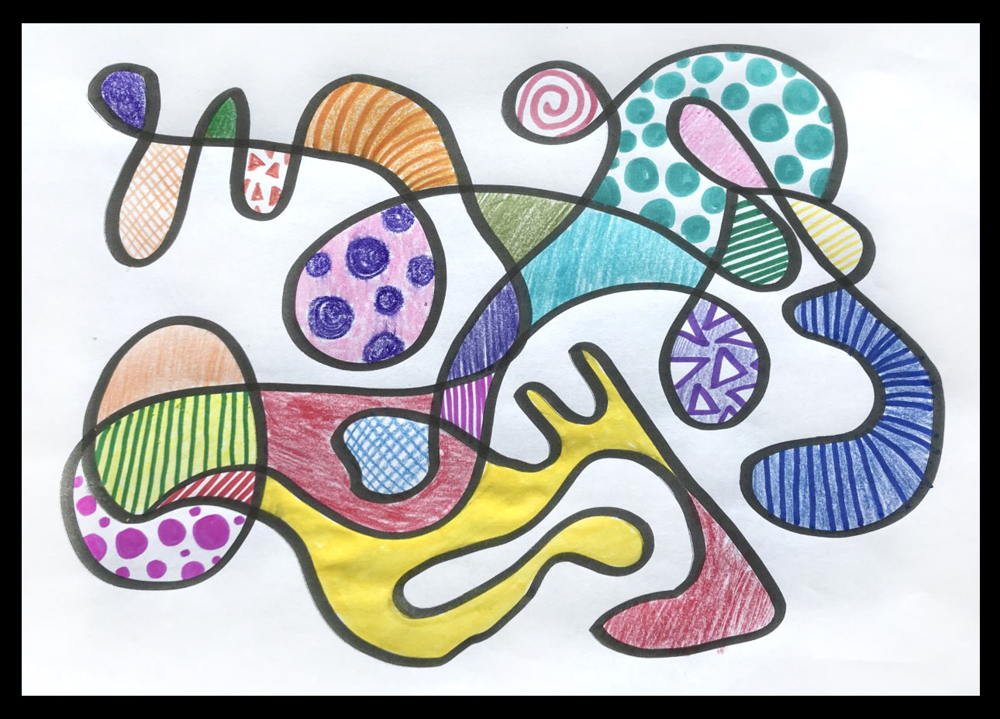 Activities and illustrations by Hazel Hurley.
---
We would love to hear your stories and artworks inspired by Talking Pictures! Share them with us on Facebook, Instagram and Twitter using the #crawfordartgalleryhomelife.
Please share: