Talking Pictures for Children
Talking Pictures is an online resource for children and their adults based on artwork from the Crawford Art Gallery Collection. We will share creative prompts for happy talk and play every Wednesday.
About the artwork
This young girl has made friends with the farmyard goose and does not want to see him being served for dinner! The artist Edith Somerville was born in Corfu in 1858, but she spent much of her life living in Castletownshend, West Cork. Throughout her life, she painted and sketched daily, while successfully publishing short stories and novels with her cousin Violet Martin.
Goose Facts…did you know?
A male goose is called a gander
A baby goose is called a gosling
A group of geese is called a gaggle
Story time
'The Goose Girl' by the Brothers Grimm
This is a fairytale by the Brothers Grimm. Many of the best loved fairytales come from the Grimms' stories, like 'Hansel and Gretel', 'The Frog Prince' and 'Snow White and the Seven Dwarfs'. There are a few different versions of 'The Goose Girl' (some of them are a bit scary!). Here is a shortened version and if you like the story you can read more about it online or maybe in a book in the library.
Once upon a time, there was a princess who left her home to marry a prince in a land far away. Her maid travelled with her but along the way the maid told the princess that they were going to swap places, exchange clothes and that she would be the princess from now on and the princess would be a maid. The evil maid warned the princess that she could never tell anyone about this.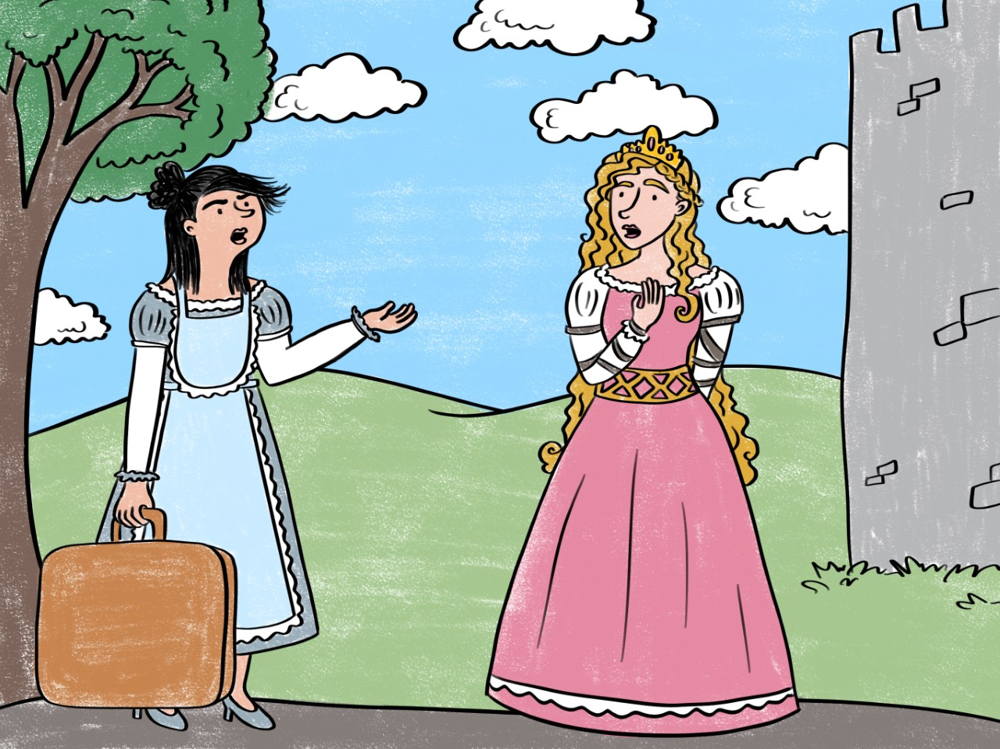 The princess was very upset and didn't know what to do when she reached the new kingdom. She went to work on a farm, minding geese. She loved the geese but she was very sad all the time because she missed her family and she wished she was married to the prince and living in the castle, like a princess should. She got into a fight with the goose farmer and he went to the king to complain about her.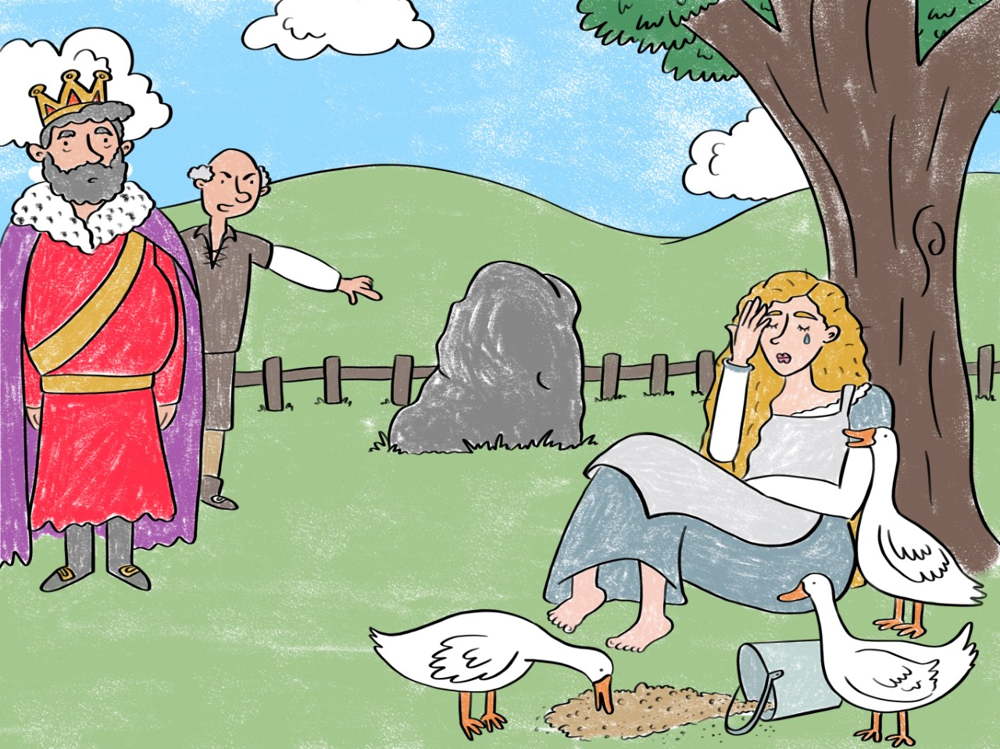 When the king came to the goose farm to see what was the matter, he noticed how beautiful and sad the goose girl was and he was curious about her. He asked her to tell him what the problem was, but she said she could never tell. The king thought for a minute and said "why don't you tell that big boulder over there". The goose girl agreed and sobbed as she told the sad story to the boulder. What she didn't know was that the king was behind the boulder and he heard the whole thing.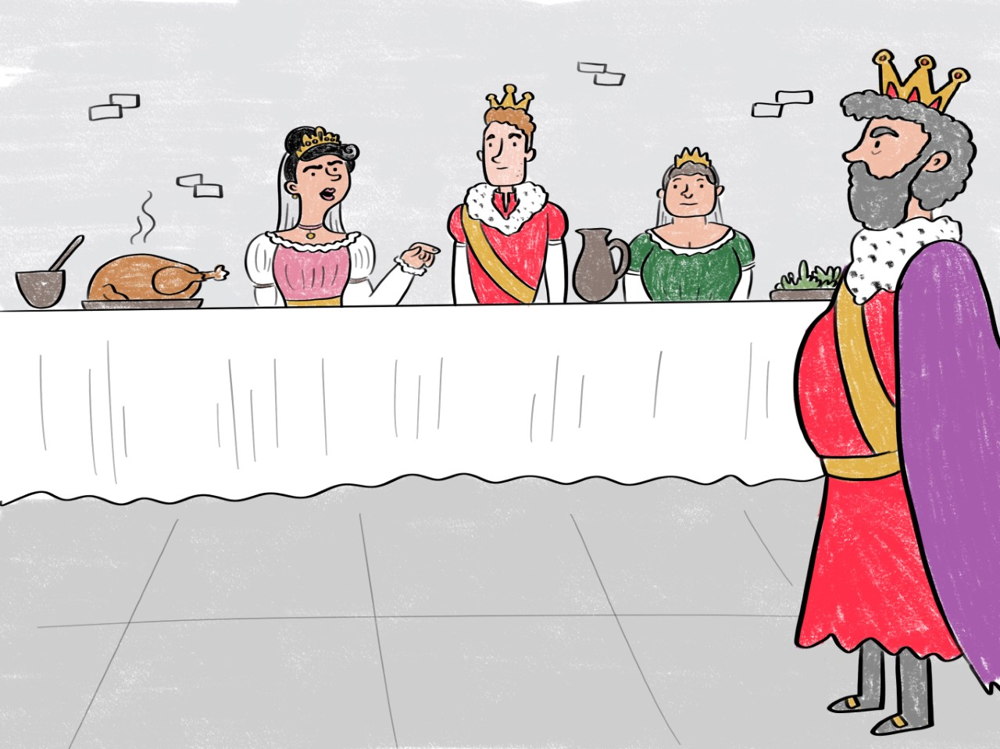 When the king returned to the castle, he told the story he had heard to the fake princess and asked her what punishment she thought such a maid should get. The fake princess said that the girl should be flogged and banished to a kingdom far far away. The king said "Well, then that is the punishment you shall get!". The silly evil maid did not realise that the story was about her and she was dragged away to be punished, kicking and screaming. The real princess married the prince and they lived happily ever after in the castle with their pet goose. The End.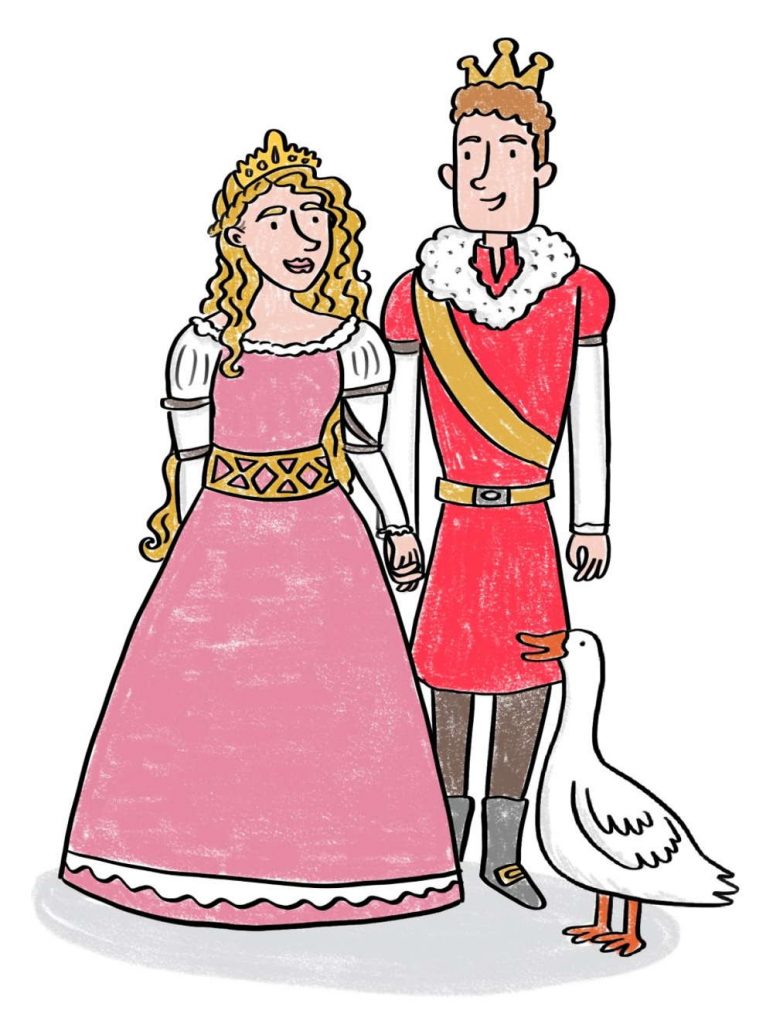 Duck, Duck, Goose
Here is a fun game you can play with your friends and family. You need at least 5 people to sit in a circle, on the floor or on chairs. One person is 'it' and they go around the circle, tapping each player on the head, saying 'Duck' each time until decide to tap someone and say 'Goose'. Then the chase is on and the goose must chase and tap the person who is 'it' before they get around the circle and take the goose's seat. If the goose doesn't catch them in time, then they are 'it' and must start tapping people as 'Duck, Duck, Duck…GOOSE!' again.By now I'm sure you love singing, so let's sing this fun song about St. Brendan by Christy Moore. Here is the first verse and chorus and you can find more verses and a recording of the song online.
Let's make a Goose!
Why don't we make our own goose from materials we would have at home? First take a paper plate and cut it like this using a scissors.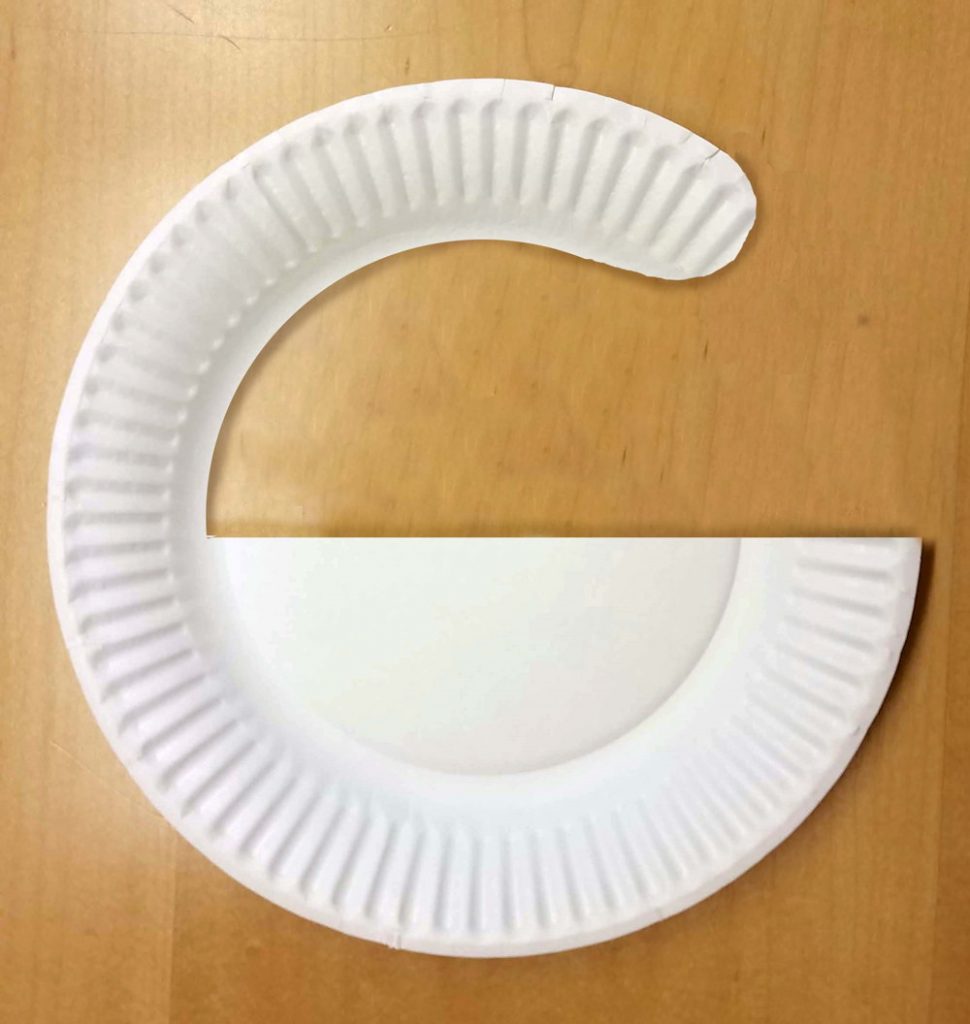 Next, you need a beak or bill. Cut out a beak shape from orange paper or some packaging you have at home (I used some orange card from a rice box). Mark in the goose's eye with a marker or pen.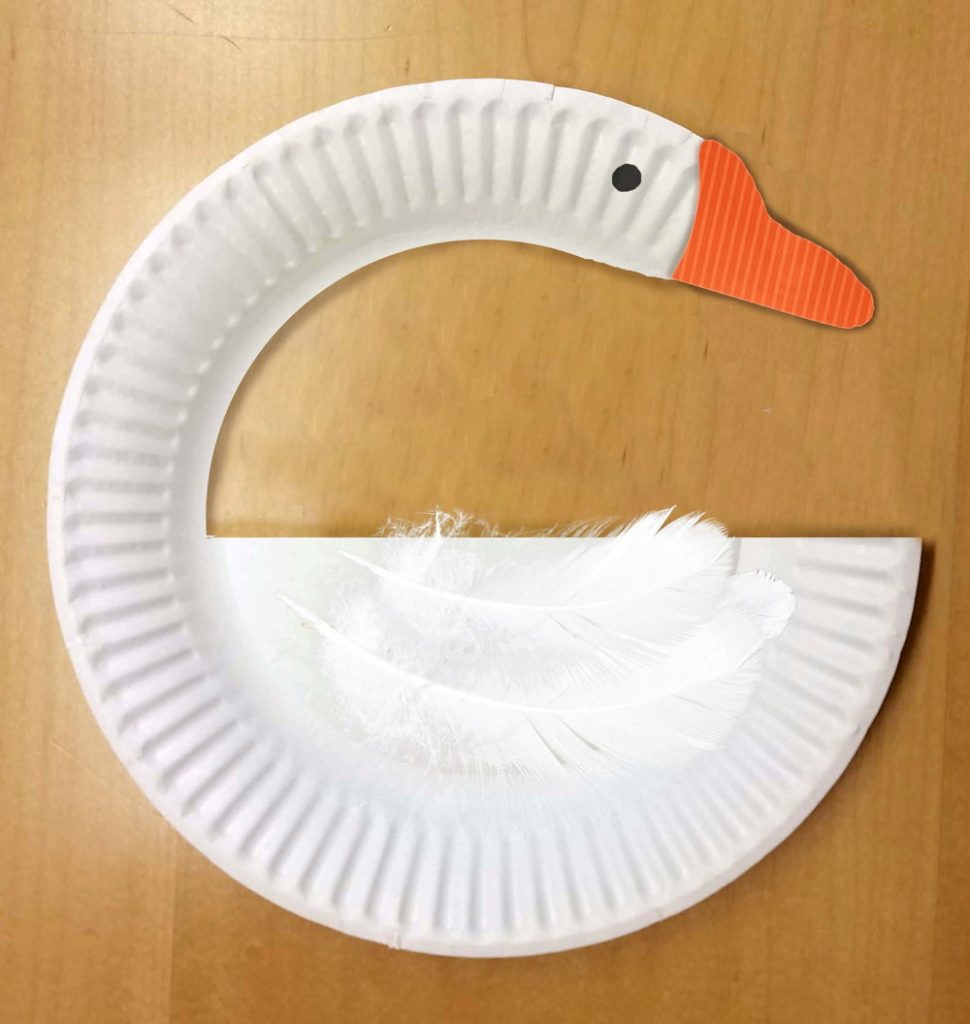 To make it look more goose-like, stick on some feathers from an old pillow or feathers you might find in the garden or some cotton wool, to make fluffy wings.
You could also add feet using more orange paper/card/packaging. Remember that geese have webbed feet. A little dickie bow on the goose's neck would be very charming too!
Now that you have your own goose to cuddle and you could even recreate 'The Goose Girl' painting with some pots and pans, cabbage and onions and ask someone to take a photo of you.
You can also find a colouring page of 'The Goose Girl' at this link: https://crawfordartgallery.ie/colour-our-collection/#EditSomerville
We would love to hear your stories and artworks inspired by Talking Pictures! Share them with us on Facebook, Instagram and Twitter using the #crawfordartgalleryhomelife.
Activities and illustrations by Hazel Hurley.
---
We would love to hear your stories and artworks inspired by Talking Pictures! Share them with us on Facebook, Instagram and Twitter using the #crawfordartgalleryhomelife.
Please share: