Talking Pictures for Children
Talking Pictures is an online resource for children and their adults based on artwork from the Crawford Art Gallery Collection. We will share creative prompts for happy talk and play every Wednesday.
About the artwork
A wet pet! This inky watercolour drawing is by an Irish artist called Michael Beirne. It shows a pet dog called Judy Boy. She is a wonderfully hairy dog! Michael has diluted his paint with lots of water to make this artwork and we can see all of the drips running off the page.
Let's play
This picture does not have a background: can you draw a background for Judy Boy?
Has she had a bath?
Was she caught in a storm?
Has she gone for a swim in the river?
Where does Judy Boy live?
What happens next?
Write a story all about Judy Boy
Can you imagine what Judy Boy is like?
What funny habits does she have?
What does she like to eat?
Where does she sleep?
Does she do any tricks?
How would you care for Judy Boy?
Challenge a grown-up!
Ask a grown-up to make up a really silly poem about a wet pet
Give a grown-up marks out of ten
Wet pet, call the vet, I bet! sunset, regret, not yet! chess set, alphabet, upset, omelette, fishing net, clarinet, Bernadette and the horsey set, internet, rocket jet, don't fret! Have we met? sweat, baguette, sunset, ink jet, drum set, forget, film set, carpet, toilet, pirouette, rosette, duet, launderette!...
My pet
Imagine your own special pet
Imagine that you can have any pet in the world…..
Would you choose a wooly sheepdog, a posh poodle, a sausage dog, a horse, a pig, a parrot, a snake, a lion, a precious butterfly, an ant, a dragon or a dinosaur….
Pet adventure
Use old magazines, newspapers and scraps of coloured paper to make a pet adventure
Cut out pictures and scraps of colour that you like
Don't worry about being too perfect
Have some silly fun placing your scraps onto a page to make a story
Anything can happen in your collage!
We think that Judy Boy might be a sea dog
Here are her friends sailing in a little boat: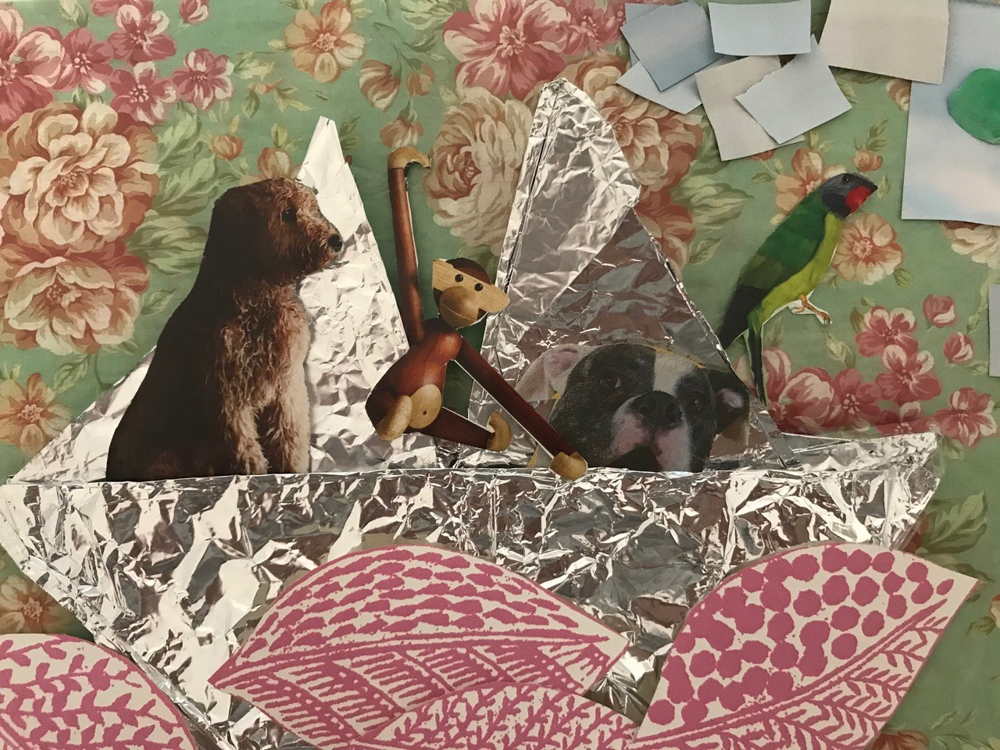 We would love to hear your stories and artworks inspired by Talking Pictures! Share them with us on Facebook, Instagram and Twitter using the #crawfordartgalleryhomelife.