Cork's Playful Culture trail invites you to embrace the summer by visiting lots of Cork city's museums, galleries and attractions along with our lovely green spaces. We are delighted to be a part of the trail which features 30 fun and playful places where children and families can explore the city's culture, heritage and green spaces through play!
On arrival at the Gallery pick up a free canvas goodie bag filled with colouring pencils, a Pure Cork pencil, a themed bookmark, the Playful Culture Trail Map and our unique activity sheet which will take you through the Gallery with fun activities such as sketching, designing superhero costumes and colouring! Make sure to keep a beady eye out for 'Blaithín' on your adventures – a cute and cuddly lizard who is the play trail mascot and will be playing hide and seek in lots of attractions.
Get inspired by the Cork City Playful Culture Trail:
Scoot down the marina
Explore with coke zero bikes
Go otter spotting along the lee
Have a picnic at Bell's Field
Find Bláithín the lizard
Make a daisy chain at Nano Nagle Place
Find out your 'bog' age at The Butter Museum
Get locked up at Cork City Goal
See underground at Triskel Christchurch
Get in the stocks at Elizabeth Fort
Find the medieval bowling ball at Cork Public Museum
Fire your imagination at the city library
Play chase or fly a kite in the lee fields
Skim a stone across the Lee
Float a paper boat on the lough
Star gaze at Blackrock Castle Observatory
Find the centre of the labyrinth at St Finbarre's Cathedral
Discover the playground at Old Cork Waterworks
Pose like a sculpture at the Crawford Art Gallery
Find the right time on one of the 4 clock faces of Shandon
Play pooh sticks at the Glen River park
Make a wish on the witches wishing steps at Blarney castle
Run over the shaky bridge
Balance on a silver ball at Fitzgerald's Park
Find the little boys on the rubble of St. Peter's
Find the shiny tree in Fitzgerald's Park
Do the UCC art trail at the Glucksman
Find the Cork town walls at Bishop Lucey park
Hunt for medals at the military museum, Collins Barracks
Treat yourself to sweets in Lenihan's, Shandon
The Crawford Art Gallery is free to visit and is open daily. For more information on the other attractions see purecork.ie/playtrail. Follow @corkcitycouncilofficial on social media for updates on the Cork Cultural Play Trail and Cork as a Playful City. Hashtags are #LetsPlayCork #ActiveCorkCity and anyone who uses these when enjoying the trail could be in with a chance to win spot prizes.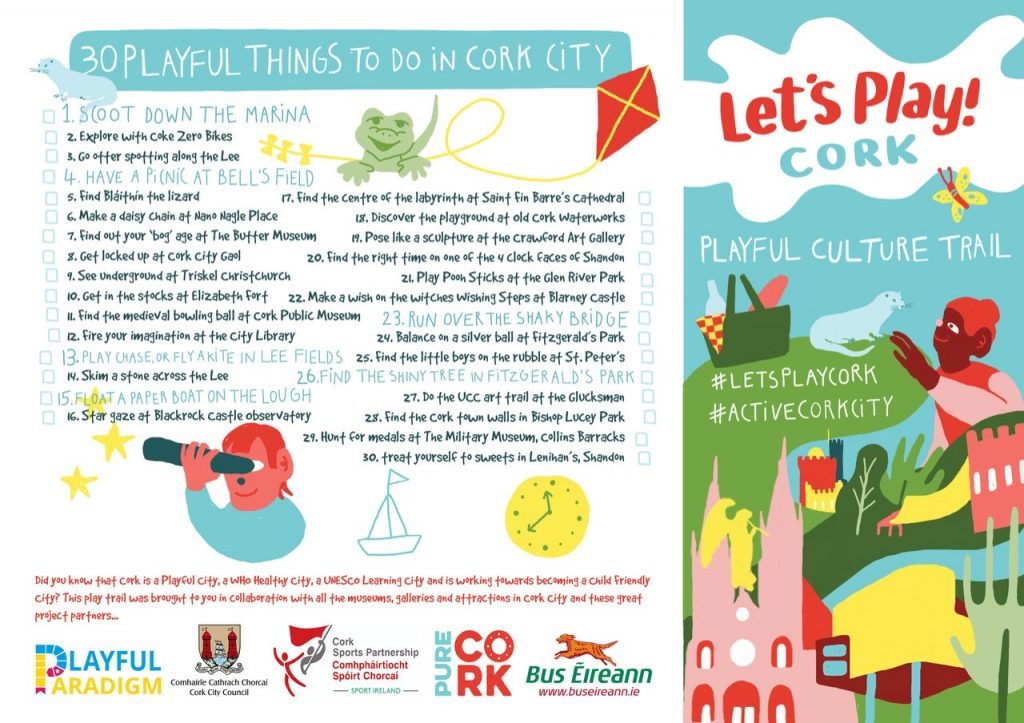 Click on the image above to view in larger format.