We share tips and tricks for drawing a figure. 
Get the low down on ways of finding proportion.
Stuck for art materials? Raid the kitchen cupboards for materials to create expressive mark-making.

Avril O'Brien, Artist and teen tutor, demonstrates with a portrait from the gallery in this short video and handy downloadable PDF.

You can download the PDF in Irish here.

#crawfordartgalleryhomelife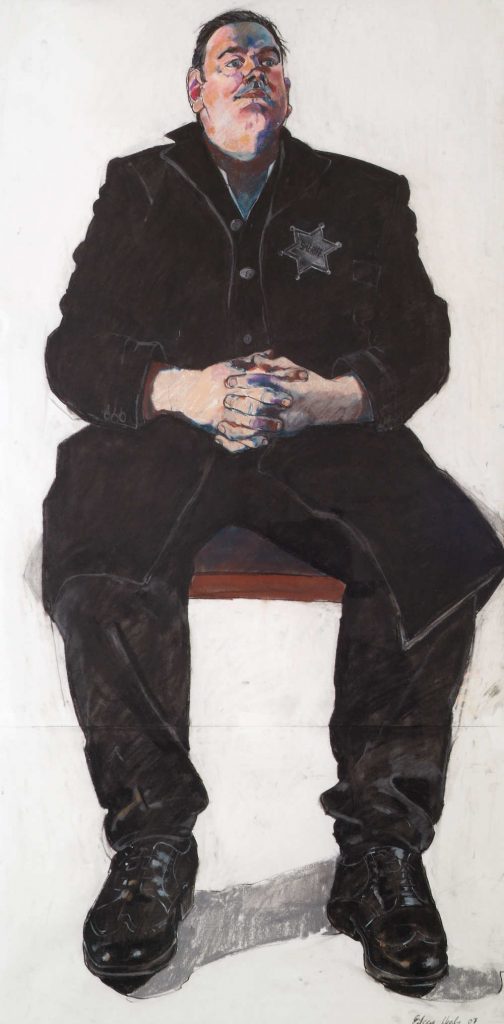 Drawing is all about Visual problem-solving. Eileen Healy's 'Portrait of Conal Creedon' (2007) which is part of our collection is a stimulus for this figurative drawing video.
HANDY TIPS FOR FIGURE DRAWING
PROPORTION
Sighting: comparing angles, distances and shapes.
Using a unit of measurement to compare sizes.
BLOCKING Build Up your drawing! Focus on:
Negative and positive space (Background and Figure)
Light and shadow to create form with areas of tonal value
EXPRESSION
Media chosen has a big effect on the feeling your drawing transmits.
Mark-Making: Use a variety of dots, hatching, scribbles, soft marks. These create your expressive language.
UNITY
Tie up the whole image.
Quality of line: Use thick, thin or broken line.
Details: Emphasise some areas, create texture, points of interest, facial expression.
Mood: Just a few marks can change the background or the lighting of your image.
MATERIALS
You don't need a collection of traditional art materials. Look around your home!
Paper- Paper shopping bags, baking paper, cardboard boxes, packaging.
Media - Spices, vegetables, condiments. We used beetroot for dramatic expression. Ground turmeric (a tiny amount added to a little water), soy sauce, tea and coffee created a sepia tone. Think about light, medium and dark tones.
Mark-making tools – what is in the garden? Leaves, sticks. Around the house? Pasta, straws, biros, scrunched up tissue, string.
Click on the video below to view a timelapse of the process