8 October 2016–12 February 2017
Three Centuries of Irish Art from a National Collection
The State Apartments and Coach House Galleries, Dublin Castle

"The magnificent surrounds of Dublin Castle will provide an ideal backdrop for the Crawford's first-ever exhibition in Dublin."
Heather Humphreys TD
Minister for Arts, Heritage, Regional, Rural and Gaeltacht Affairs

The Crawford at the Castle sees the collection of Crawford Art Gallery travel to Dublin for the first time in its near 200-year history.
Founded as a school of art and 'saloon of sculpture' in 1819, the collection at Crawford Art Gallery began with the prestigious gift of 'Canova Casts' from the Prince Regent who, as King George IV, visited Dublin in 1821. The Throne Room at Dublin Castle is so named for this visit. This is just one of the many resonances between these two institutions traced by the exhibition.
The Crawford at the Castle displays a selection of works from the gallery's collection, which provide a survey of aspects of Irish art from 1730 to 2015. Displayed in the State Apartments and Coach House Galleries, the exhibition explores pertinent themes to such a historic setting, the former administrative centre of Ireland in the heart of our capital.
From the State Corridor which showcases Neoclassical prints and Romantic sketches, visitors to the exhibition will journey through themes of Enlightenment and Revolution in the Minerva Room, questions of National Identity in the King's Room, images of our Environment and the Natural World in the Arts & Sciences Room, and expressions of the Artist at Activist in the Queen's Room. In addition to these, ideas of Power and Knowledge are evoked in trough lens-based works exhibited in the Coach House Galleries in the neighbouring Dubh Linn Gardens.
This exhibition serves to highlight the continuing roles of Crawford Art Gallery as a National Cultural Institution for the visual arts and Dublin Castle as a place of historical, cultural, and political significance.
Curated by Anne Boddaert and Dr Michael Waldron
A companion catalogue, edited by Peter Murray and published by Dublin Castle, is available to purchase from mid-October 2016.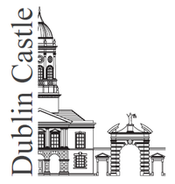 Works in THE CRAWFORD AT THE CASTLE exhibition:
George Mounsey Wheatley Atkinson: Paddle Steamer Entering the Port of Cork
Robert Ballagh: The Rape of the Sabines, after David
James Barry: Orpheus Instructing a Savage People
James Barry: A Grecian Harvest Home
James Barry: Crowning the Victors at Olympia
James Barry: The Thames, or the Triumph of Navigation
James Barry: The Distribution of Premiums in the Society of Arts
James Barry: Elysium and Tartarus, or the State of Final Retribution
James Barry: Portrait of Burke and Barry in the Guise of Ulysses and a Companion fleeing from the Cave of Polyphemus
Francis Bindon: Portrait of Jonathan Swift
Muriel Brandt: The Breadline, 1916
James Brenan: News from America
James Brenan: Patchwork
John Butts: A View of Cork from Audley Place
Circle of Allan Ramsay: Portrait of Robert Emmet, M.D. of Cork
Circle of Allan Ramsay: Portrait of Mrs Emmet
Margaret Clarke: The Dressmaker
Jerome Connor: Siren
Barrie Cooke: The Lough Derg Pike: life size, with relics
Dorothy Cross: Bone Room Print
Dorothy Cross: Jellyfish Lake
Willie Doherty: Evergreen Memories
Doug DuBois: Sweeny Jumps into Cork Harbour
Rita Duffy: Segregation
Micheal Farrell: Black '47
Samuel Forde: The Veiled Prophet of Khorassan
Samuel Forde: Portrait of the Artist (Self-Portrait)
Samuel Forde: Original Sketch for Fall of the Rebel Angels
Samuel Forde: Oil Sketch for Fall of the Rebel Angels
John Halpin: After Patinir
Anthony Haughey: Famine Eviction Scene: Model World, Newtownmountkennedy
Martin Healy: Last Man
Patrick Hennessy: Elizabeth Bowen at Bowen's Court
Grace Henry: Claddagh Market, Galway
Joseph Higgins: An Strachaire Fir
Robert Hunter: Portrait of the Penrose Family
Joseph Malachy Kavanagh: The Cockle Pickers
Seán Keating: Men of the South
Sir John Lavery: The Red Rose
Sarah-Jane Lynagh: Red Madonna
Daniel MacDonald: Bowling Match at Castlemary, Cloyne
Daniel MacDonald: The Eviction
Murdo MacLeod: Portrait of Roy Keane
Daniel Maclise: The Falconer
Brian Maguire: Figure Silenced
Fergus Martin: Head 3
F.E. McWilliam: Woman in a Bomb Blast
Thomas Moore: Irish Melodies (with illustrations by Daniel Maclise)
Séamus Murphy: Deirdre (of the Sorrows)
Alanna O'Kelly: The Country Blooms, a Garden and a Grave
Tony O'Malley: Hawk and Quarry in Winter – In Memory of Peter Lanyon
Vivienne Roche: Tomb
Nigel Rolfe: Into the Mire
Martin Archer Shee: The Postman
Oliver Sheppard: Aida
Mary Swanzy: Samoan Scene
Unknown: Speech of Robert Emmet, Esq.
Jack B. Yeats: A Race in Hy Brazil
Jack B. Yeats: Returning from the Bathe, Mid-Day