(2020) 20:00 mins
Selected by GAMeC, Bergamo, Italy
On February 7th 1992, the Treaty on European Union was signed in the Dutch city of Maastricht. Decades later, the representatives of the last three countries left in Europe meet again in the very same room where it was signed, this time to deliberate on the permanent shutdown of their Union. In what seems to be a looped therapy session, the three characters - helped by a British interpreter as a self-appointed analyst - try to deal with their feeling of loss. The conversation allows their political and personal bonds to be woven together metaphorically, compelling them to face their identity crisis and acknowledge what no longer is, what is left and what still can be of that Union.
Artist Q&A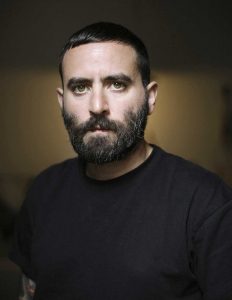 Where are you from and how did you become interested in moving image work?
GS: I was born in Rome and I live between the Netherlands and Italy. I got into moving image from photography and the necessity of translating into sound, movement and storytelling possible narratives.
What inspired/influenced you to make the work?
GS: The need of allegorising major European issues into kinship metaphors put into word said by improbable politicians during a sort of collective therapy session
What are you working on at the moment?
GS: I am working on a monologue for a theatre play taken out of the film, this time the protagonist will be the feelings of the interpreter called to translate that day in which Europe ended.
Giulio Squillacciotti (Rome, Italy 1982) is an artist and film-maker, lives and works in Maastricht and Milan.
His work is oriented mainly on the invention and mutation of traditions by merging together fiction and historical facts. Using film, documentary, sound and scenography, Squillacciotti produces research-based investigations that revisits history, crafting new stories from subjective perspectives, religion and popular culture. He holds a BA in Medieval Art History and earned a MA in Visual Arts from The Architecture University of Venice. He was Residency Fellow at the Jan Van Eyck Academie in the Netherlands.