Artists' Film International is a collaborative project featuring film, video and animation from around the world. During 2020, works responding to the theme of language will unfold across all 20 partner organisations. While our venues' doors may be shut, we will be screening this exciting international work online.
This week until Thursday 4 June:
Ergin Çavuşoğlu: Desire Lines (Tarot & Chess) (2016)
Selected by Istanbul Modern
Click on the image below for link to film: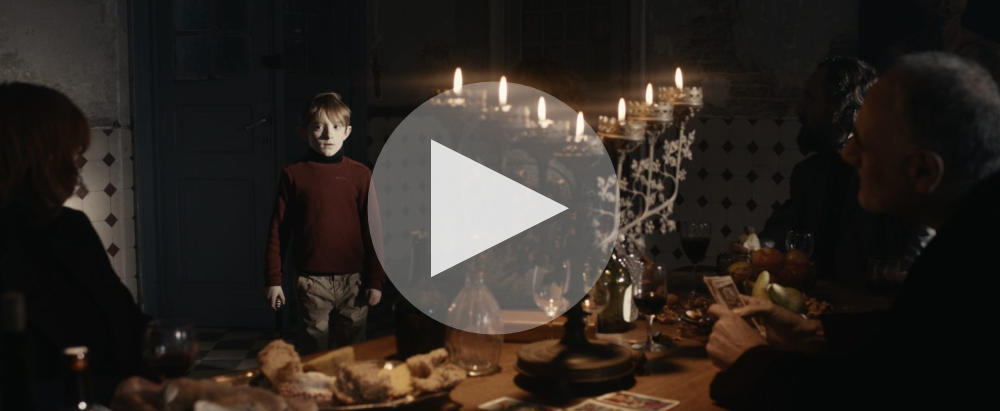 Ergin Çavuşoğlu's film Desire Lines (Tarot & Chess) (2016) takes inspiration from universal patterns of human behaviour observed in Italo Calvino's book The Castle of Crossed Destinies (1973). The film opens on a group of mute travellers gathered in a castle, whose stories and destinies are recounted by a central figure, The Castle Keeper, as he reads an unfolding set of Marseille tarot cards. The interpretations of the cards allude to classic tales such as Faust, Oedipus, and Shakespearian narratives such as Hamlet, Macbeth and King Lear, involving the central figures of The Knight, The Maiden and The Alchemist. After the protagonists have concluded the telling of their individual stories, they are challenged by the Castle Keeper to a game of chess, perhaps their last chance to alter their destinies.
"In Calvino's book, [it's] through the sequence of the pictures that stories are told, which the written word tries to reconstruct and interpret.' In Desire Lines, the stories are told by sequences of moving images and fragmented speech." Ergin Çavuşoğlu
Central to Ergin Çavuşoğlu's practice are concepts and themes that probe the notions of place, liminality and the conditions of cultural production, which he has been exploring through a range of media, including video and sound installations, painting, sculpture and anamorphic drawings.
Çavuşoğlu studied at the National School of Fine Arts, Sofia, Marmara University (BA) Istanbul, Goldsmiths College (MA) London, and the University of Portsmouth (PHD). Çavuşoğlu co-represented Turkey at the 50th Venice Biennale in 2003. He was shortlisted for the Beck's Futures Prize in 2004 and for Artes Mundi 4 in 2010. Recent solo exhibitions: Extra City Kunsthal, Antwerp (2016), PEER, London (2010), Ludwig Forum für Internationale Kunst, Aachen (2009), Kunstverein Freiburg (2008) and John Hansard Gallery, Southampton (2006), among others. Museum and biennial exhibitions include, Galleria d'Arte Moderna Milano (GAM) (2018), MacKenzie Art Gallery, Regina (2018), The Jewish Museum and Tolerance Center, Moscow (2018), Es Baluard Museum of Modern Art, Palma (2017), Solomon R. Guggenheim Museum, New York (2016), Istanbul Modern, Istanbul (2015) and Manifesta 8, Murcia (2010).Çavuşoğlu lives and works in London.
For further information on Ergin Çavuşoğlu click here
---
Artists' Film International (AFI) is a partnership of 20 international organisations that celebrates moving image. Partners are: Ballroom Marfa, Marfa, Texas, USA; Belgrade Cultural Centre, Belgrade, Serbia; Bonniers Konsthall, Stockholm, Sweden; CAC, Vilnius, Lithuania; Centre for Contemporary Arts Afghanistan (CCAA), Kabul, Afghanistan; Crawford Art Gallery, Cork, Ireland; Fundación PROA, Buenos Aires, Argentina; Galleria D'Arte Moderna e Contemporanea, Bergamo, Italy; Hammer Museum, Los Angeles, USA; Istanbul Modern, Istanbul, Turkey; Friends of Iziko South African National Gallery, Cape Town, South Africa; KWM artcentre, Beijing, China; Mohammad and Mahera Abu Ghazaleh Foundation, Amman, Jordan; Moscow Museum of Modern Art, Moscow, Russia; Museum of Modern Art, Warsaw, Poland; Video-Forum of Neuer Berliner Kunstverein (n.b.k.), Berlin, German; Para Site, Hong Kong; Project 88, Mumbai, India; Tromsø Kunstforening, Tromsø, Norway; Whitechapel Gallery, London, UK.
---
Link to last week's featured artist:
Mohamed A. Gawad: Betalpha (Balbalah)
Selected by Mohammad and Mahera Abu Ghazaleh Foundation