Virtual Extended Thursday Club 6 with Artist Julie Forrester
Leaf
So we have arrived at the last Thursday in May and we are coming to our final Thursday Club of the Bealtaine Sessions.
In response to the work we have been doing so far Emma has kindly dug out this fabulous drawing from the Crawford Gallery collection. Leaf by Kathy Prendergast is a massive 236 x 190 cms - so when we encounter this 'in the flesh' its scale reminds us that we could almost be looking at a reflection of ourselves - we become embodied in the leaf.
The leaf is drawn in blue chalk and the choice of material and colour is a curious one: chalk is a delicate medium, mobile and liable to blur on any surface, here it speaks of fragility, impermanence and loss, and there is a practical need to be careful in the making of it, the blurring across some areas of the drawing gives a sense of movement and motion blur, animating the veins in a ghostly way. The green of life is not present here - blue is an ethereal colour, cool, distant, nostalgic even, perhaps frozen. In a material sense Leaf could be a 'blue print' – suggesting the idea of a prototype, however the sense of a pocket sized plan is strangely inversed here because of Leaf's monumental scale, somehow doubly dwarfing us in its potential to be scaled up, or read like a map - we become tiny in its landscape.
I can imagine the artist, leaf in hand, gazing at its complexity and noting each tiny vein on every branching form, rigorously, obsessively even, translating the lines, on an epic scale, to the paper, where there is huge potential to get lost in The Leaf. Imagining this scenario brings the intent focus of the artist into being and I begin to see the time spent, drawn out in passages across the image, each containing marks with different characters. I am brought to imagine a daily ritual and all the different fluctuations of moods and energies brought into being in the leaf.
Kathy Prendergast has also made a drawing of a hand on the same epic scale, this time in a brown chalk, lending it an earthy presence.
TASK
This week we are going to try a variety of approaches:
You can take a lead from KP and scale up.
If you have the space you can find the biggest paper to hand (wallpaper is always good for this), or you can join several smaller pieces together - zoom in on The Leaf and you will see where KP has joined several pieces of paper together.
Your size of ground is dictated only by the space you have to work in! NB: It also depends on how much chalk you have.
If space is tight you can work on a regular-sized piece of paper and drawing only a tiny section (you can then decide if you want to jigsaw puzzle sections together to make the whole, or not). It's worth noting that the size of your ground often dictates the size of your movements, wrist and hand, whole arm, or whole body! Working on a large scale is a physically immersive experience and I really recommend it. Most artists find they have a scale they like to work on and I tend towards the large, I really like to be inside my drawing involving my whole body in the movement of marks across the image.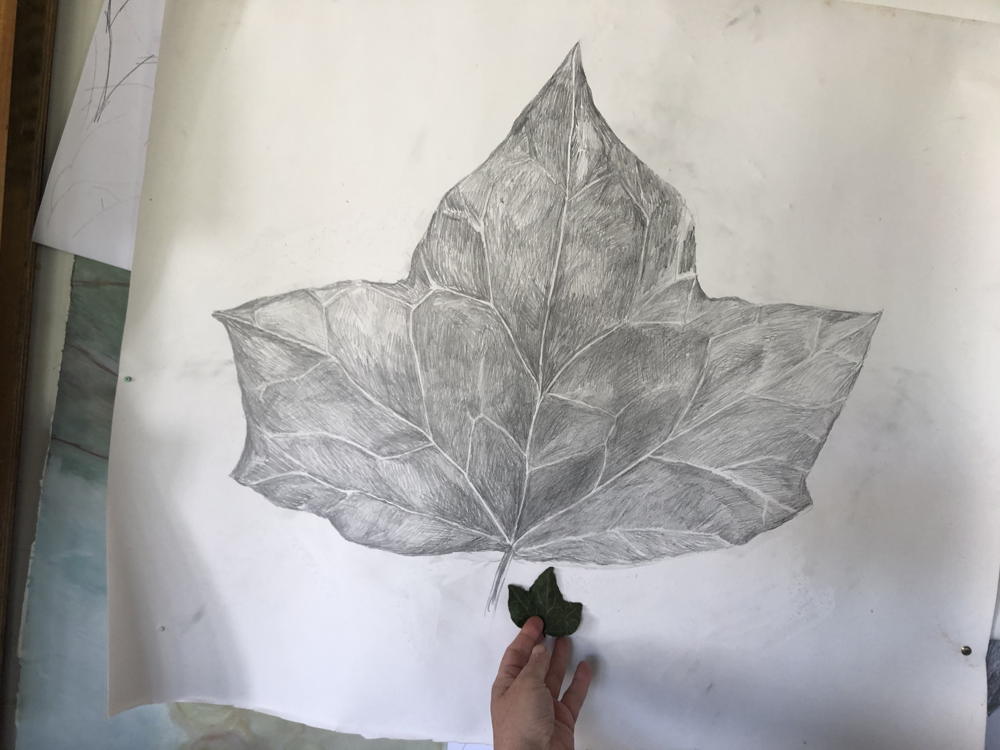 You can decide what you would like to draw, hand, leaf or something else….perhaps the object form daily use that you drew in the earlier sessions. It's worth picking something with a fair amount of complexity so you can get engrossed in the detail. If you are working large you might choose to work upright on the wall, so you can face it, or you could choose to make your drawing on the floor.
You can also try to extend your reach by attaching your marking tool to a bamboo or garden stick, so there's no need to bend over the drawing and it gives a different kind of control - Matisse used this technique, as you may know, in later life when he made his drawings from his sick bed, using crayons on sticks - try out different methods of interacting with your ground - each has its own kind of choreography and discourse between you and the unfolding image.
You can try using different media – chalk is fun but quite messy! Use an eraser cut to size to carve into the chalky marks, picking out the lighter detail on the leaf. I find that chalks make me want to be more gestural and less precise so I got going with the rhythm of this withered plantain leaf.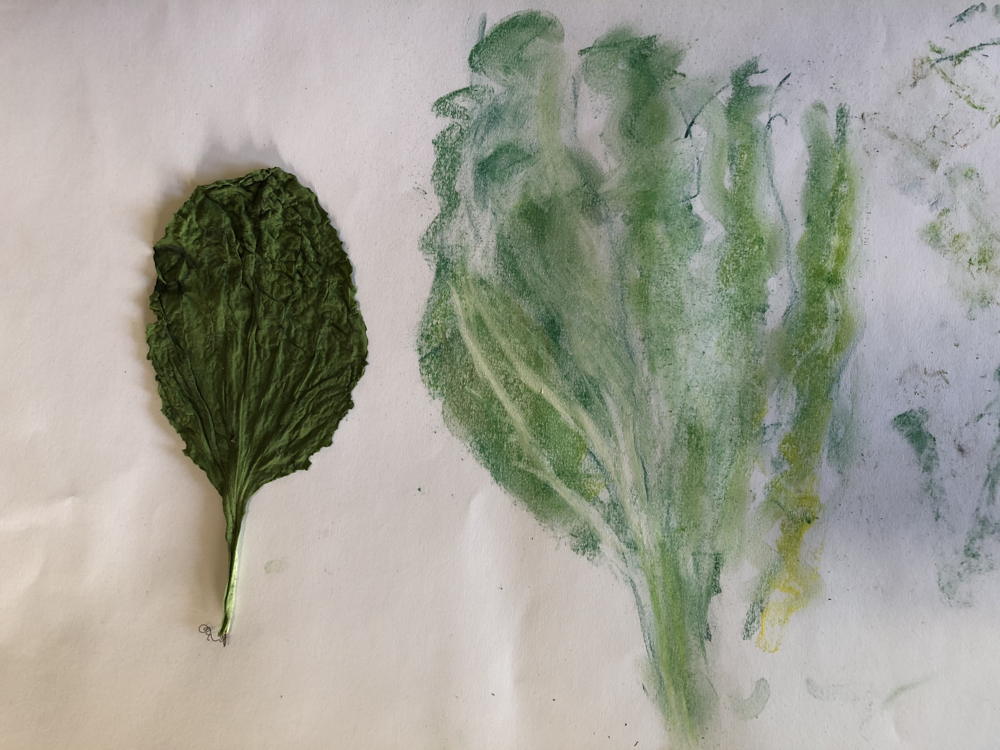 When you have finished you will need to fix the chalk to the page using hairspray.
You can also experiment with wax resist where you draw make marks with wax, drawing invisibly on paper and then wash over your drawing with a dye-based medium, like ink or watercolour paint -I used an old candle, a brush and some ink.
To make a rubbing choose a leaf with high relief, and prominent veins, I have picked a strawberry leaf. You can also draw your leaf freehand, experimenting with pressure and line.
You can also use wax crayons for wax resist , combining coloured wax with your wash.
You can build up layers using different techniques and media.
Be inventive! See how you can stretch your resources to the max.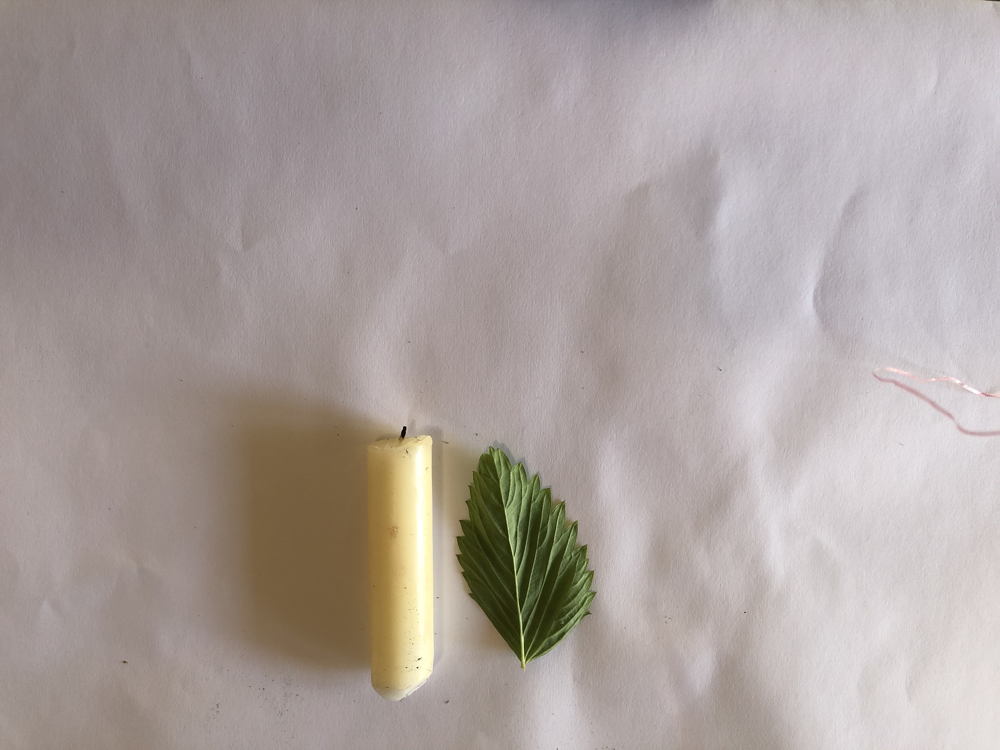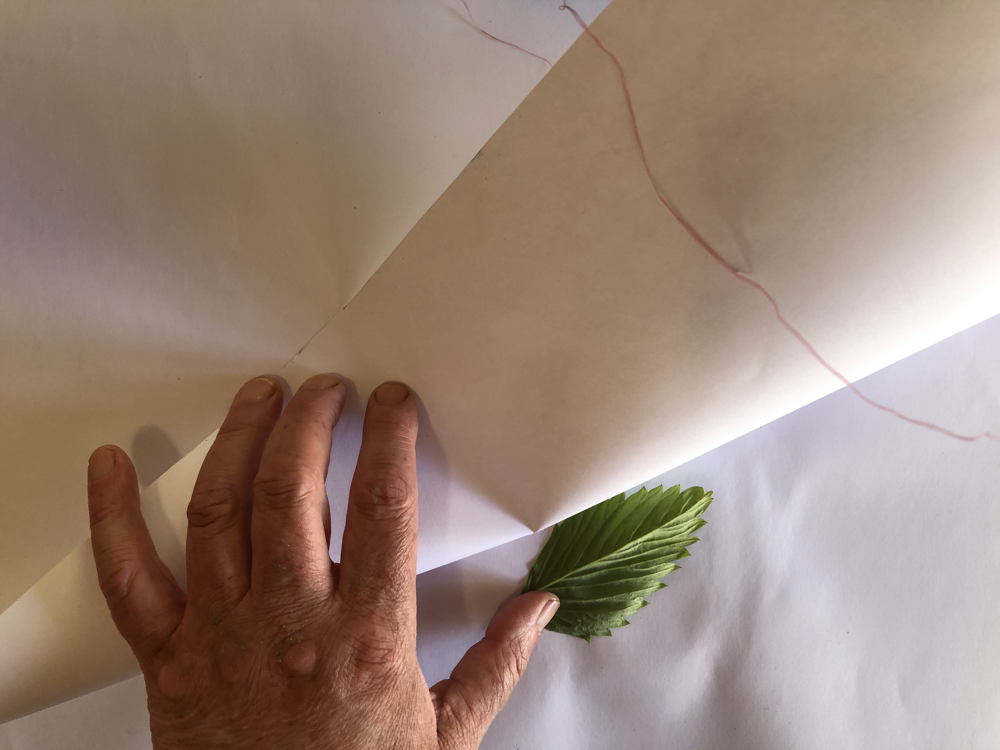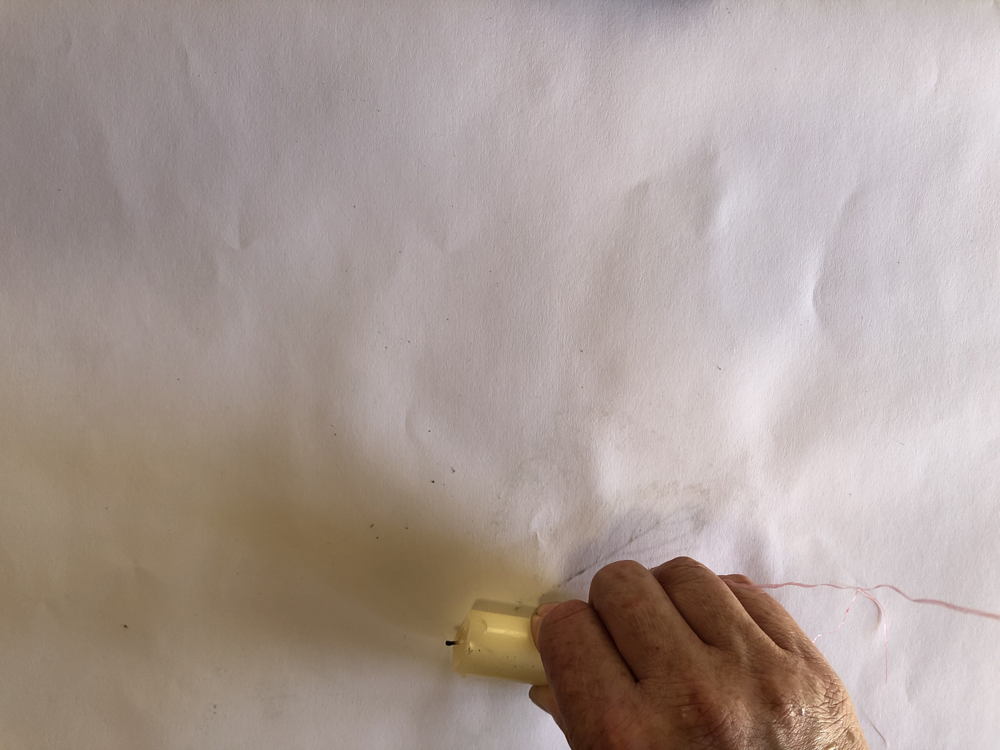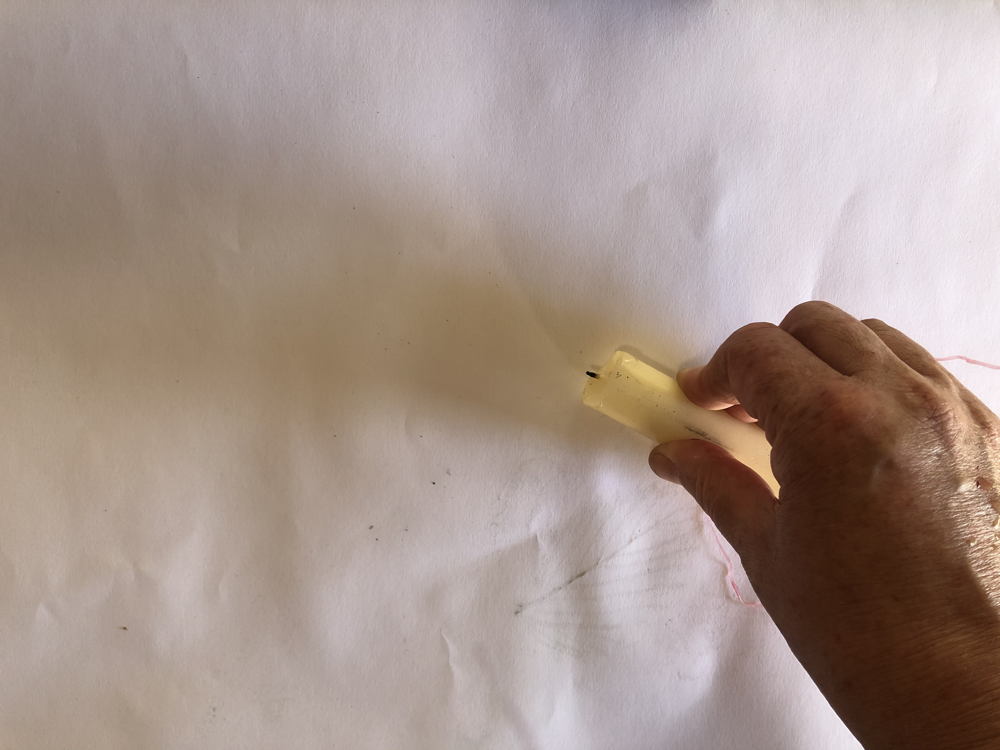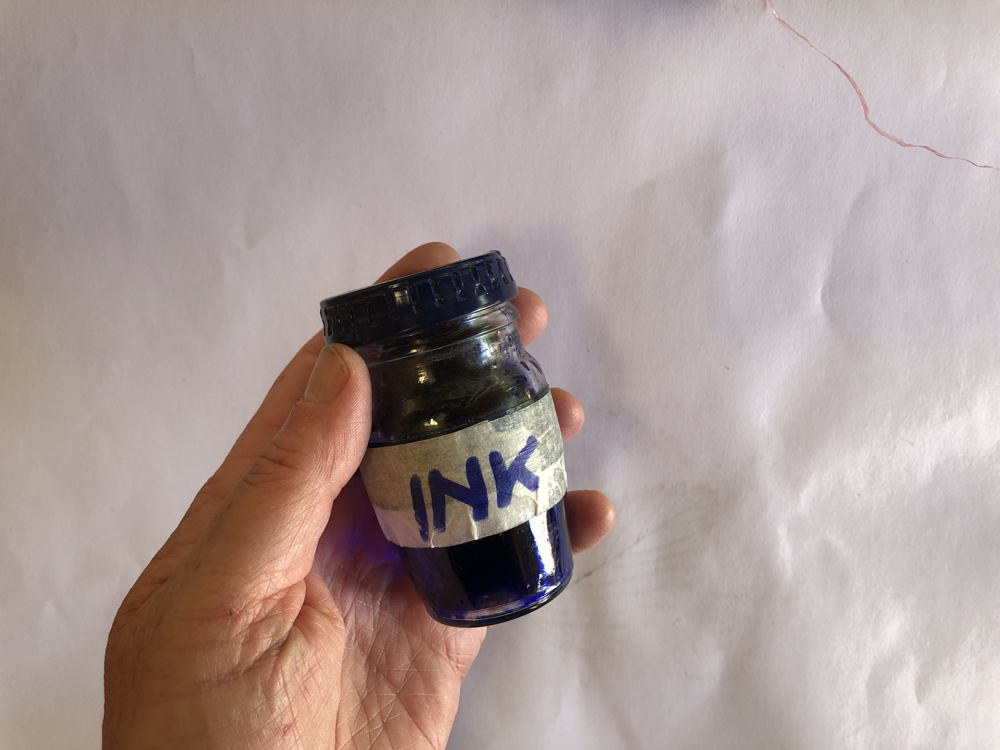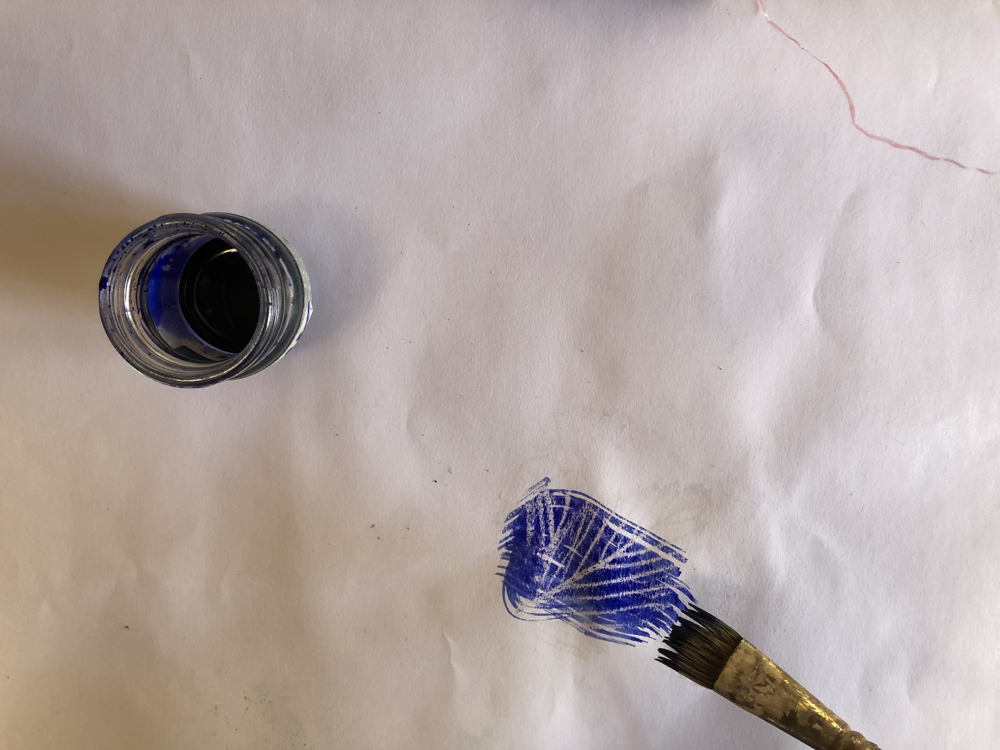 In this series I have used materials I had to hand, this was a little challenging but it gave me some useful parameters to work within. You might find you have different equipment and materials - I invite you to play around with what you've got! If you are really desperate for special materials you can order online from Cork Art Supplies another useful site is Jackson's in the UK.
Have fun and I hope to see you in the real one day soon!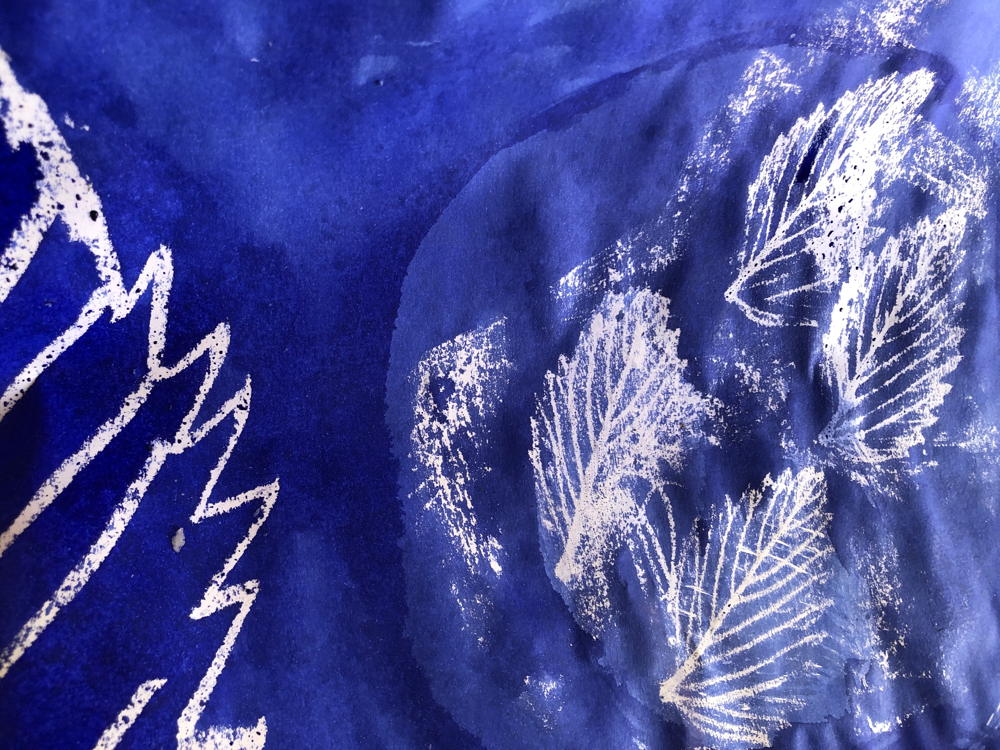 It would be fun to share these findings. As usual if you would like to do this please upload to Instagram and #thurs_day_club or to the CrawfordGallery_ThursdayClub (private) Group page on Facebook
https://www.facebook.com/groups/238947527257822
Or if this is tricky you can send them to me and I can upload them.
SHARING
You can make comments, suggestions or observations directly to the Crawford education here:
Anne Boddeart
Curator / Programme manager, Learn and Explore:
anneboddaert@crawfordartgallery.ie
+353 (0)21 490 7857

Emma Klemencic
Education:
emmaklemencic@crawfordartgallery.ie
+ 353 (0) 21 4907862