Where are you from?
I'm from Cork, the county with that magnetic ability to pull you back no matter where you've lived!
What do you do?
I am an administrator for the Friends of Crawford Art Gallery. I work closely with my colleague, Bernadette, and between us we keep the Friends up to date on what's happening in the art scene here at Crawford Art Gallery and elsewhere in Cork.
To explain what I do I suppose it would be prudent to firstly tell you who the Friends are. They are an amazingly diverse open-minded group of people who support the arts in the Cork community and in particular in the Crawford Art Gallery. They first came together over thirty years ago and have helped to keep the arts alive in Cork through donating artworks and helping to support the Gallery in all its artistic endeavours.
My role as an administrator is quite a varied one – from managing the everyday operations under the guidance of the Board of the Friends to event management!
What does your everyday look like?
My day is very different depending on the time of year and the Friends events that are underway, but one thing's for sure: once I put my hand on that bevelled glass front door and walk in, the magic begins.
My day starts as all good days should, with a cup of Barry's tea in hand while planning the week's programme with Bernadette. Then we deal with daily tasks, ranging from processing membership enquiries and carrying out banking tasks, to supporting the Board in the acquisition of artworks.
Many hours can be spent researching an upcoming exhibition or artist and finding new ways of bringing this to the Friends through our weekly newsletters. It always sees me coming across a new story in art that I never knew existed and making new connections.
Spring and Autumn days are filled with organising lectures and welcoming the public into our wonderful Lecture Theatre, where when the lights are dimmed and stories are shared the hustle and bustle of the city streets outside is left behind and you enter another world.
Part of my day will be spent chatting with existing and new members and liaising with curators, artists and art historians to organise talks and tours both nationally and internationally!
And then there's our new venture, CorkAbout! These are our video escapades, where we take to the streets of Cork while Bernadette dons her "Francis Ford Coppola" hat and films what's been there under our noses all along from a fresh perspective. And to think CorkAbout! was born out of a global pandemic! As I'm sure Elizabeth Bowen would have agreed, lucid times call for lucid measures. In a nutshell, it's our way of bringing artworks and artists work into our members' homes when they can't venture out.
Do you have a favourite artwork/gallery space/exhibition?
I have a favourite of all those things!
My favourite artwork is William Orpen's "The Revolutionary".
From the moment I came upon it hanging in our Gibson Galleries it drew me in – I was pulled into its quiet intimacy. Although it has its own story to tell it resonated with me in a completely unexpected way. It's in the curl of the fingers of his upward-facing, open palm and the red translucent glow of his ear tip that I was transported back to my teenage years. And the memory of coming home so exhausted from school that you stretch out cat-like onto the floor, under the window, with the warmth of the late evening sun warming your open palm and the gaps between your fingers glow red, almost translucent, just like his ear tip. That quiet, still intimacy of just existing in that moment connected me with the subject in Orpen's painting.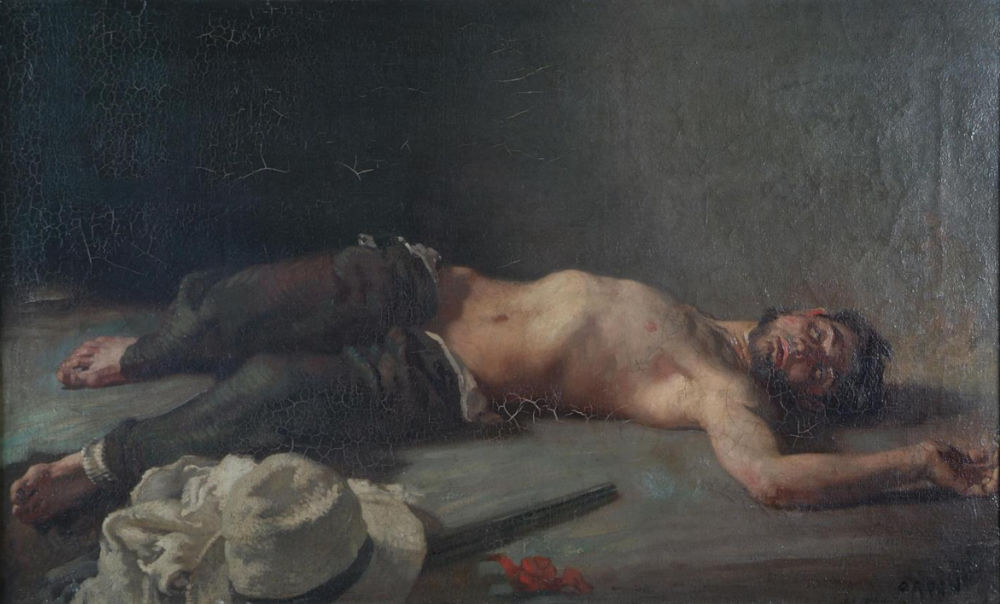 My favourite gallery space probably isn't technically a gallery space at all, but very much the hub of the gallery.
It's what I like to think of as the 'Poker Room', a tiny windowless room with a Formica-topped table, three chairs huddled around, the feel of cards being dealt and a nostalgic hint of cigar smoke and furniture polish from days long gone by still lingering in the air. In reality it's actually a tearoom – but like all spaces in the Gallery, there's the sense that anything is possible!
My favourite exhibition was Stones, Slabs and Seascapes: George Victor du Noyer's Images of Ireland. It was curated in 2017 by Peter Murray with Petra Coffey and was my first exposure to Du Noyer's work – it will stay with me for a long time to come. What a gift to be able to view those wonderfully detailed tiny sketchbooks of George Victor Du Noyer! His incredible archive of line drawings and watercolours documenting all sorts of plants, animals, and geological features observed on his journey through many counties of Ireland by foot, no matter what the weather. With the slightest line of his pencil or dab of his brush, he brought character and life into the everyday.
What might people not know about the Crawford?
To expect the unexpected! No matter how much money you have in your pocket or how much knowledge you have in your head it never fails to deliver a unique experience for everyone who steps inside its doors, eliciting all sorts of emotions, firing up your synapses and leaving you with a sense of wonder, curiosity, and of wanting to know more.
Interested in learning more about the Friends of Crawford Art Gallery and how to become one? Click here for further details.