Name: Jacques Hugo
Where are you from? Cape Town, South Africa
What do you do at Crawford Art Gallery?
I am a Marketing & Communications Assistant at the gallery
Briefly describe your typical working day
At first, before working from home became the norm, I worked mostly on press releases, design of brochures and our exterior banners, liaising with press and assisting with events. Days are so varied and exciting. We start the week with a Communications meeting which sets the tone for the week. I've started creating a lot more rich media for our online resources, including videos and interviews.
What do you like most about working at Crawford Art Gallery?
Our team and the visitors. I'm enamoured of the lightning-in-a-bottle synchronicity we share as staff - we are all so passionate about the work we do and we all feel a tremendous responsibility to represent the people's gallery and nurture it and guide it along for future generations. And I think that happens daily. I absolutely love meeting visitors who may have been students or artists' models at the old art college once housed in the building. Hopefully we can share more of their stories in the near future.
I have a fine art film & performance background and really wanted to become a performance artist, but moved more into theatre and production. And the gallery opened my eyes in such a generous, beautiful way and made me realise Arts Communications may be the path for me. I've always been a champion for people and their work.

Once I spot something special and it gets under my skin it's hard to let go. It's very innate and I love nothing more than to wave a flag for someone. I don't know how to do anything else. Maybe becoming Madonna (the original plan) is a little out of reach now and I'd be such a terrible banker!
Do you have a favourite artwork, exhibition or gallery space?
Countless and endless but I will say that Edith Somerville's "The Goose Girl" and the gentle way in which she handles innocence, the life ahead and the cusp of adulthood is breathtaking.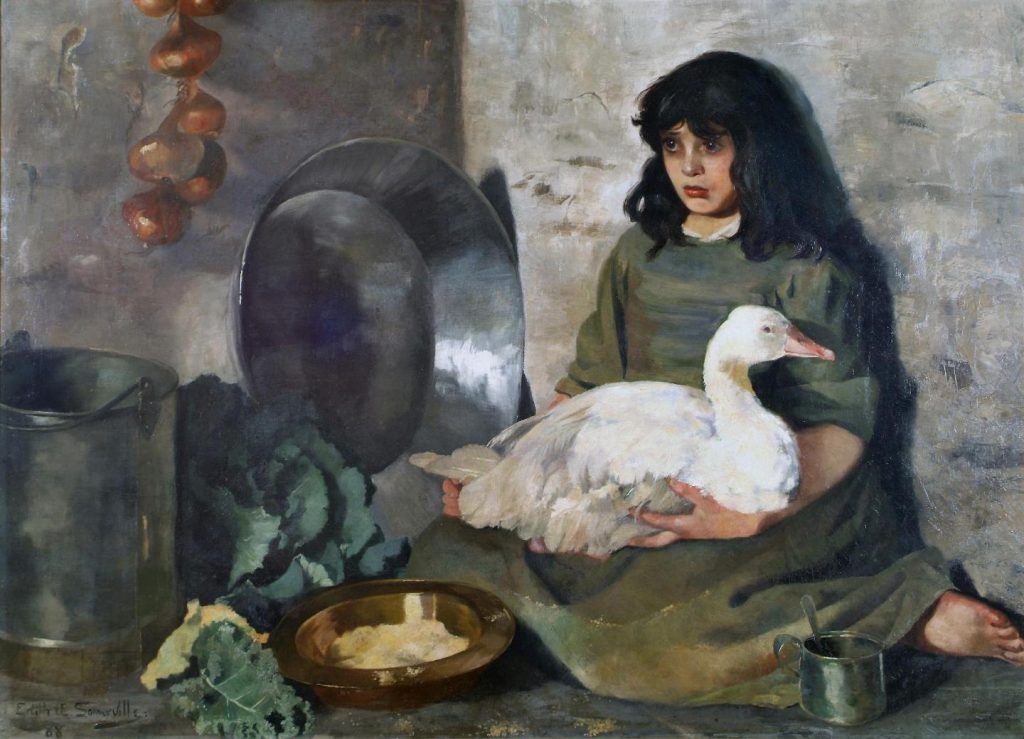 Last year Daphne Wright's "A quiet mutiny" touched me deeply. I particularly enjoyed learning more about the genesis of the exhibition - one of the inspirations for the work came from the first page of Virginia Woolf's "To The Lighthouse."

A little boy is angry about the possibility of disappointment in life and his mother tries to protect him from it; the concept that a child's thinking is a single narrative for years and years until teens and then the "emotional meltdown" happens and you suddenly realise life contains multitudes. Terrifying and yet there's freedom in that realisation. I feel like I was that kid. So, I absolutely love understanding the germ of an idea and the fluidity of inspiration. It can come from anywhere and morph into anything.

Stephen Doyle's "Dylan is ainm dom" moved into the biggest room of my heart. I wish I had seen a work like that growing up (believed to portray the first transgender person in Irish art.) It's a tremendous privilege to be part of such an inclusive and forward-thinking institution. And, of course, the Sculpture Galleries and our beloved Canova casts (featuring the best museum bums in town, maybe even the country!)
Do you remember the first time you visited the gallery?
It was a very rainy October afternoon. I had just arrived in Cork and stumbled upon this magnificent building. For a while, prior to living in Cork, I spent a couple of years in a very harmless but completely boring suburb and missed being able to walk into a gallery space in the heart of a city. Learning how much the gallery, collections and building mean to the people of Cork and as a National Cultural Institution to the country, moves me so much. It was then I knew I had to be involved somehow. Make tea, anything! I feel very lucky.