Make puppets for a Halloween shadow play, table decorations and fun
A Halloween inspired workshop 'The Witches Parade' by Julie Forrester.

Make some spooky puppets for a Halloween shadow play. Throw in some table decorations and you've got a Halloween scene that will entertain the whole family.

Follow the animation video and the instructions on the doc below and create this spooky scene in your own home.
Click on the video below to discover how to make your own Hallowe'en puppets
Click on the image below to download the PDF file to see written instructions on how to build your puppets.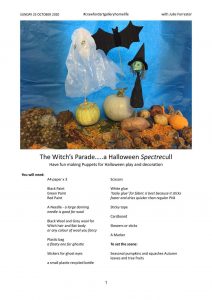 All artwork and animation © Julie Forrester.
For further information:
Anne Boddaert anneboddaert@crawfordartgallery.ie
Emma Klemencic emmaklemencic@crawfordartgallery.ie